In a recent post, 9 Steps to an Effective Competitive Analysis, we went through 9 areas businesses need to focus on when completing a competitive analysis for their digital marketing strategy. This post is dedicated to 6 of the best tools for digital marketing competitive analysis, which you can use to support that process (some of which are free!)
SEMRush

SimilarWeb

Buzzsumo

SparkToro
1. Google Alerts & Google Advanced Search
i) Google Alerts
Google Alerts is a great tool that's often overlooked and best of all; it's free! One of its more common uses is to set up alerts for your brand name and any keywords you are specifically targeting. Aside from these benefits, it can monitor your competitor's brand.
Set up is easy. All you have to do is sign into Google Alerts from your Google Account and set up as many alerts as you need. When you go to create an alert, you will be presented with the following screen. Decide how often, how many results, what email you want the data to go to etc.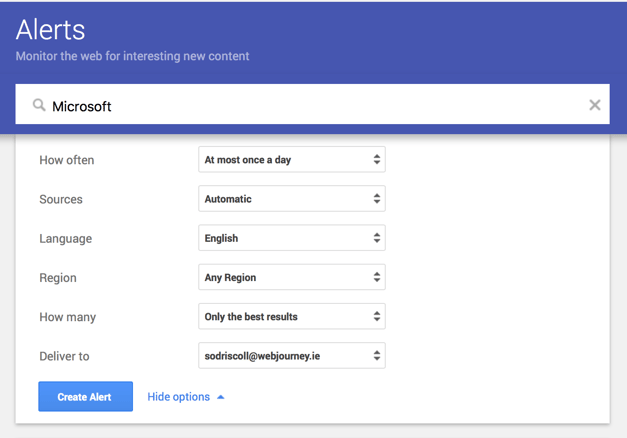 Note that Google Alerts can also be used for other marketing efforts like content curation, research, link building etc. So, for a free tool, it has many valuable uses.
Pricing: Free
ii) Google Advanced Search Operators
Have you ever used Google's advanced search feature? Did you even know it existed? If not, then you're missing out! You can do lots of things with Google Advanced search options. For detailed information, check out this link.
Put your competitor's URL into a Google search using this syntax 'link:apple.com'. By doing this, you can check out sites that link to your competitors, and from there, you can figure out if you should be trying to get links from these sites too.
Link building should be a key part of your SEO strategy if you want to build your SEO and rank higher. But remember, the authority of the website providing the link is very important if you will benefit from the link.
Tip: Read HubSpot's article on link building to learn more - Inbound Link Building 101: 33 White Hat Ways to Build Backlinks for SEO)
2. SpyFu
SpyFu has been around for many years and is one of the best SEO and PPC research tools available. You just plug in the URL of your competitor into the search box at the top, and off you go! Use it to look at your competitor's keywords - paid and organic. Use your competitor's behaviours to fine-tune your own digital strategies.
Data is presented in a way that is easy to understand. For the novice, it will show you what keywords you are lacking, what advertising you need to be doing, and what you are doing that sets you apart from your competition and vice versa.
Here are samples of some of the data it produces:-
Monthly Domain Overview

Competition

Competition Shared Keywords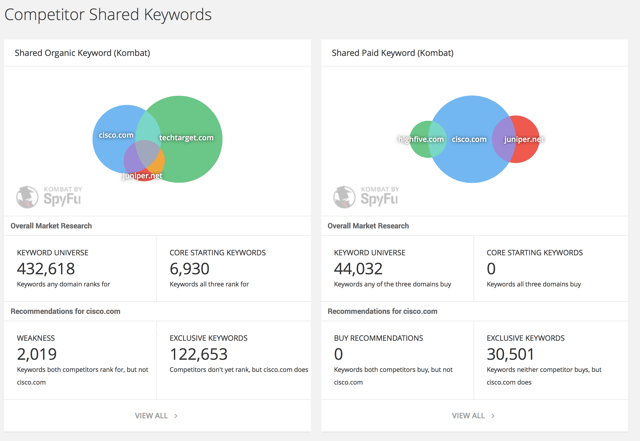 Top Keywords

AdWords History
Pricing: Ranges from $39 /mo (Basic) or $16 (Basic) if paid annually
3. SEMRush
SEMRush is another very powerful tool. It includes analytic's tools to use for research on areas such as...
Organic Research
Advertising Research
Display Advertising
Backlinks
Video Advertising Research
Keyword Research
Domain by Domain comparisons

etc.
Limited functionality is free, but you can try it out and get a feel for it before you purchase.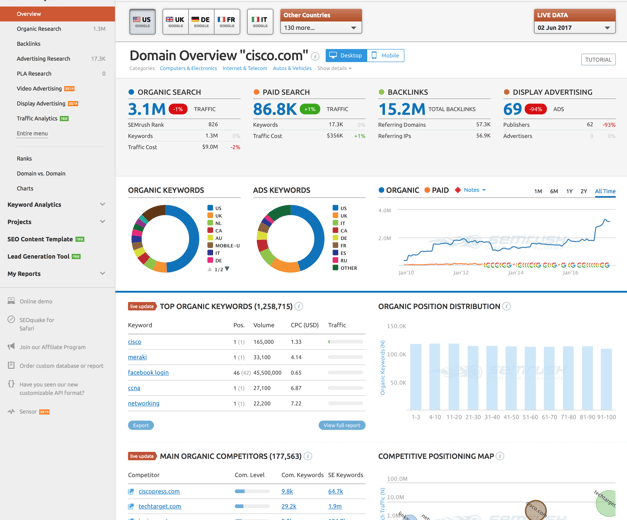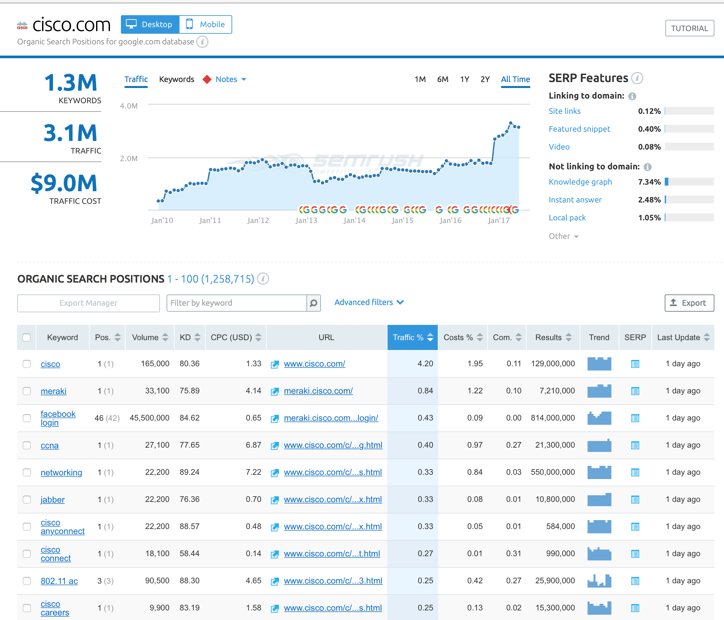 Pricing: Ranges from $119.95 /mo (Pro plan) or $99.95/mo if paid annually
4. Similar Web
SimilarWeb is a great competitive analysis tool. One of its best features is the ability to compare your competitor's data. It covers many areas, such as
Traffic and Engagement Metrics
This includes overall visits, time on site, bounce rates and page views per visit.
SEO & PPC Keywords
Use this to check out your competitor's organic and paid keywords. it also includes 'Google not provided' keywords. Look for trending keywords, how much traffic they generate and any paid ads linked to those keywords.
Audience Interests
Find which websites people are visiting at the same time as your competitors to uncover some really useful information. Uncover data for new audiences, potential re-targeting lists, affiliates and publishers.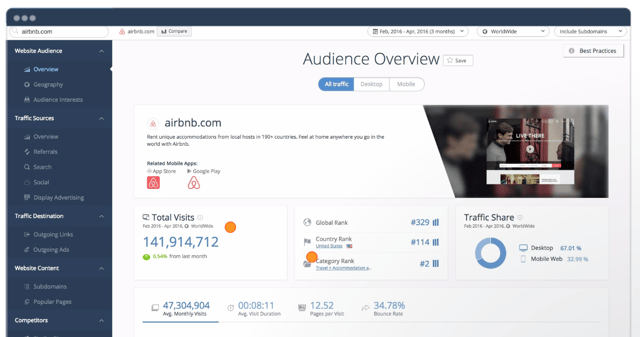 Traffic Sources
Find out about sources generating traffic to your competitor's website This data includes referrals, search, social and display sources. Expose your competitor's acquisition strategy to find new and proven ways to grow your business.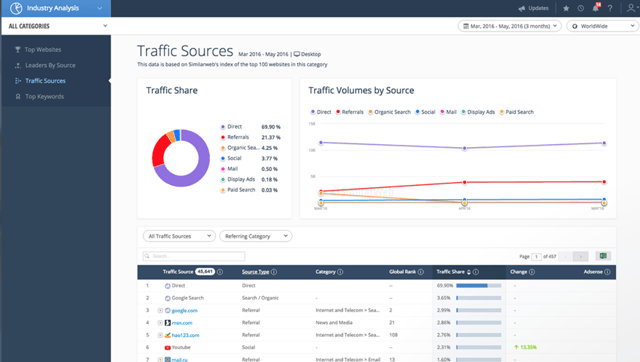 Popular Pages
Reveal any website's most visited and read pages. Use this data to track competitors' campaigns and discover what content is generating the most traffic.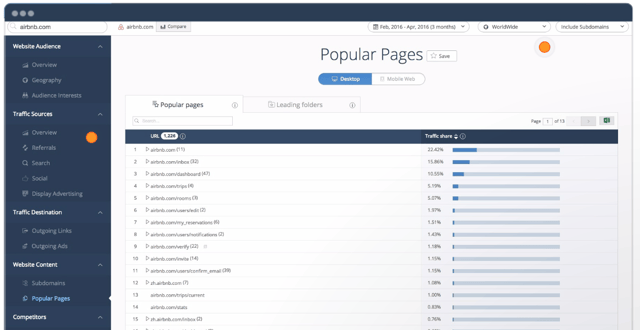 Now SimilarWeb is a pricey tool, but if you have the budget and think you'll get a return on it, then it's a brilliant tool to have in your kit.
Price: You would need a detailed quote for your business.
5. Buzzumo
Buzzsumo has many great features covering content curation, backlink analysis, monitoring etc. To see how well your competitor's content is doing, put in the URL of a competitor and check out the results. Take HubSpot, for example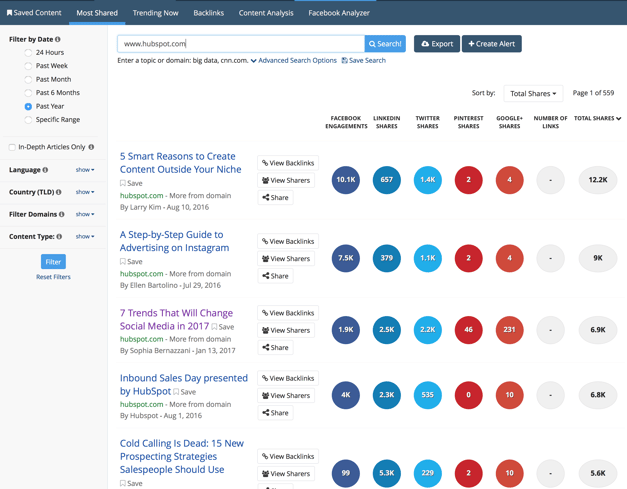 This information is very valuable as you will see what's popular with their audience, and you can look to include similar content in your own content strategy and schedule.
Another big benefit of Buzzsumo here is that you can actually see who is sharing their content. Now in the case of HubSpot's post, it could take some to review the sharing information, but your competitors likely have a lot less content than HubSpot being shared on social media!

Use this data to make lists of people who could be good influencers.
Also, use the Backlinks data for your own link building. See who has provided your competitors with inbound links to their sites and check these out. Again authority is important if the backlinks are going to have a positive impact on your SEO.
Pricing: Basic starts at $119/mo (or $95/mo if paid Annually)
6. SparkToro
Seeing what your competitor's audience actually does on the internet is extremely time-consuming, but SparkToro can do it in seconds. It collects information from public social profiles across 12 networks on
Demographics
Behaviours
Text Data
We did a quick search for the HubSpot website and here's a snippet of what we found: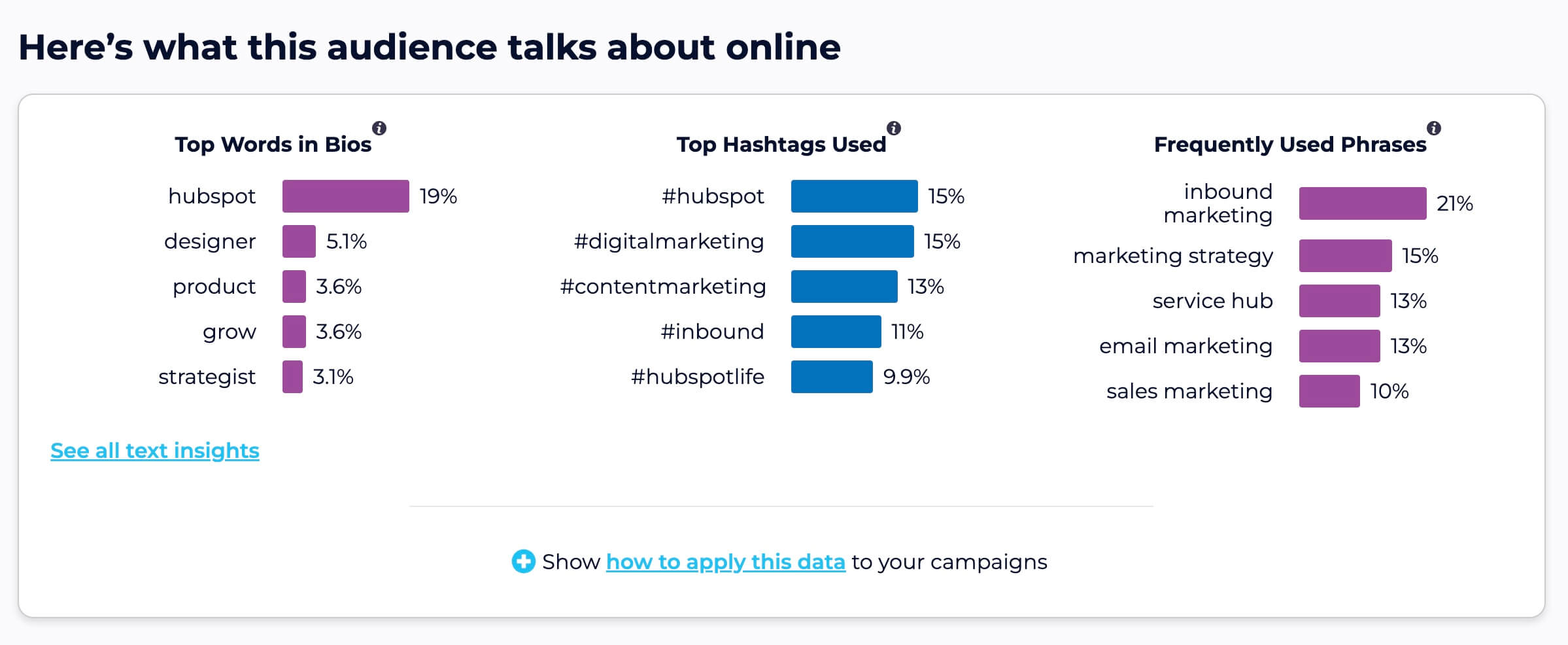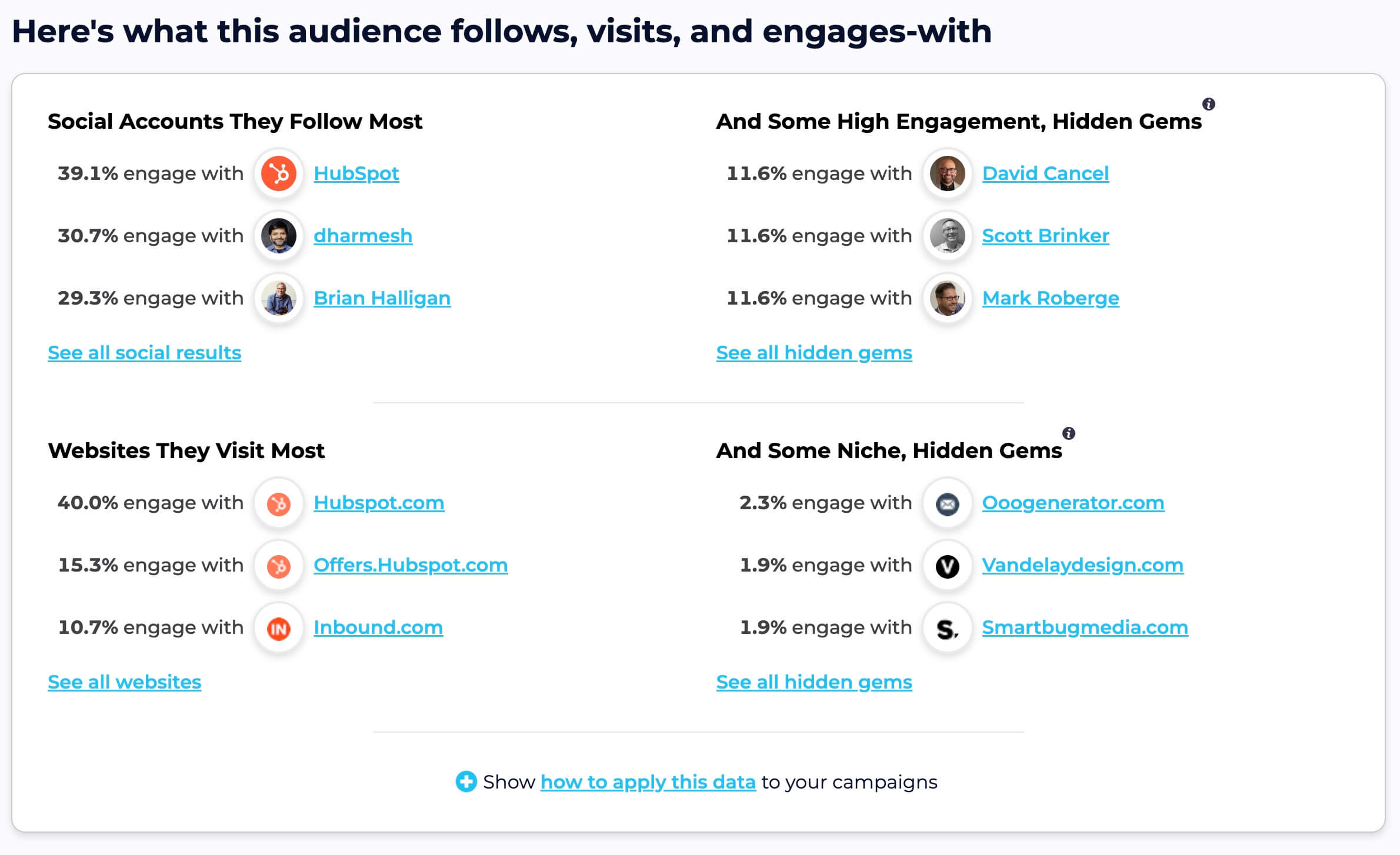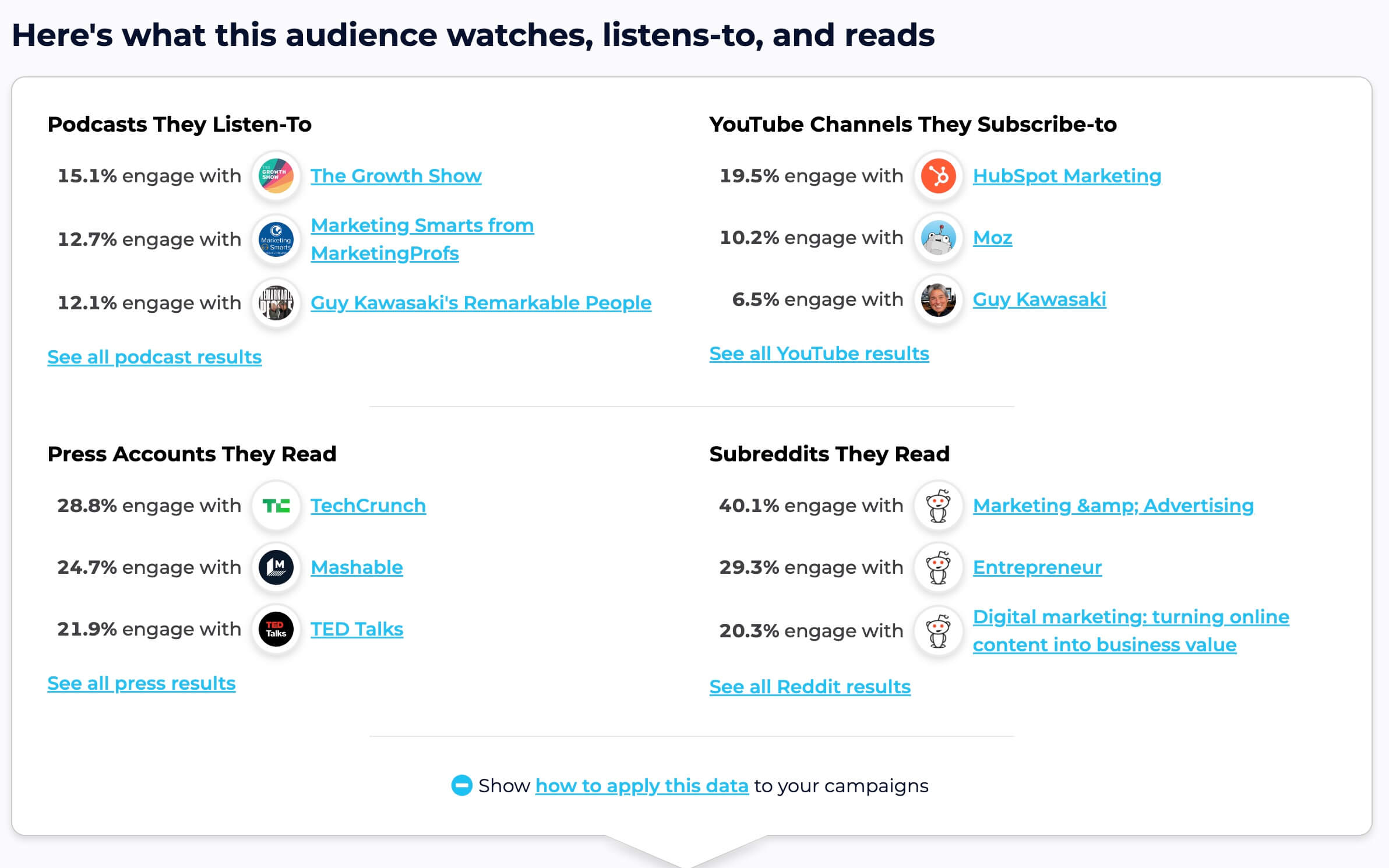 Try it out for free - 50 searches free per month!
Pricing: Personal plan from $70 p/m ($50/mo if paid annually) and Business from $200 p/m ($150/mo if paid annually)
So these are just some of the multitude of tools available to analyse your competitor's online marketing so that you can improve your own strategy and gain a competitive advantage.
In the meantime, if you need any advice on completing a competitive analysis or choosing tools to help, please contact us.
Originally published: Jul 18, 2017. Updated Feb 2023.