Does your business need to generate more leads and convert these leads into customers?
Lead generation is a challenge that most companies face at one time or another. But if you put time and effort into it, it can result in a lot of new business, help build a strong brand and increase your revenue.
So how do you generate leads? Firstly and most importantly, know who your customer is, what their challenges and pain points are and help them by providing valuable content that helps solve these problems and challenges. Given that people are getting increasingly reluctant to give away their contact details these days, the best way to overcome this is to offer something in exchange for their information, and that's where lead magnets come in.
So, What's a Lead Magnet?
A lead magnet is an irresistible offer that is of value to a visitor/prospect in exchange for their basic contact information. If the offer is something of real value to them, then they will provide their information in exchange. Here's a great example of an eBook Lead Magnet landing page from HubSpot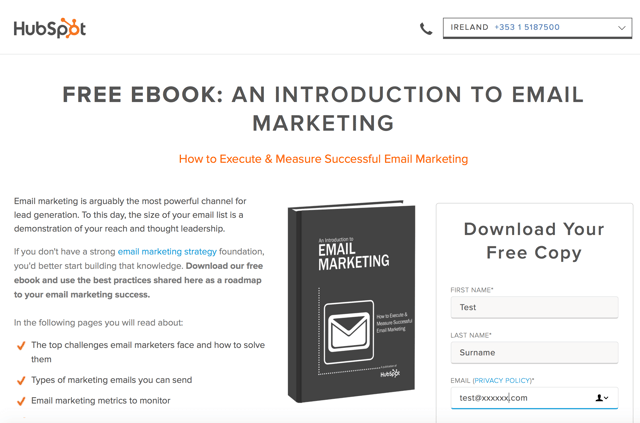 Why do you need Lead Magnets?
One of the main objectives for a company is to attract lots of traffic to their website and generate highly qualified leads with high conversion rates. Lead generation magnets for SaaS and Software companies are a powerful way to generate leads. You can include them on your website pages, at the end of your blogs and publish them directly on social media. A lead magnet will send visitors to a specially designed landing page like the one above. The majority of B2B buying processes begin with an online search so if you regularly produce content and have lead magnets in place you have a much better chance of attracting new highly qualified leads.
---
If you want to know how to implement lead magnets that convert then download our Free Lead Generation Best Practices Guide
---
Lead Magnets for Different types of Customers (Buyer Personas)
In order for lead magnets to be effective, you need to know who your ideal customers are ( 'buyer personas') and what their problems, challenges, pain points and goals are. To create your buyer personas, look at things like
Demographic information
Job level and seniority
What a day in their life looks like
Pain points and what you do to help them solve these
What they value most
What their goals are
Where they go for information
What experience they look for when seeking our your services or product
Their most common objections to your service or product
Without buyer persona's marketing and sales teams won't know who they are marketing to or who they are selling to.
Once you have properly researched and clearly defined buyer personas, you can provide something of value that helps them to solve some of these challenges - but only address one of these at a time when implementing lead magnets.
Lead Magnets for Different Stages of The Buyers Journey
Apart from tailoring your lead magnets to target the right buyer persona, you must also target them with the right offer at the right time. Lead magnets are most successful when tailored to the different stages of the buyers journey. The buyer's journey is the active research process someone goes through leading up to a purchase. The 3 main phases are
The Awareness Stage (Top of Funnel)
The awareness stage is when your prospect is experiencing and expressing symptoms of a problem or opportunity. They're doing education research to more clearly understand and give a name to their problem. They may not know that software is the answer to their problem at this stage so keep that in mind when selecting your magnet.
The Consideration Stage (Middle of Funnel)
The consideration stage is when a prospect has now clearly defined and given a name to their problem or opportunity. They are committed to researching and understanding all of the available approaches and/or methods to solving the defined problem or opportunity.
During the consideration stage you need lead magnets to focus a little bit on your product (just high level key features and benefits) or how a particular category of software will help them with their challenge. Short videos are a great way to educate buyers at this stage but remember to keep them short!
The Decision Stage (Bottom of Funnel)
The decision stage is when a prospect has now decided on their solution strategy, method or approach. They are compiling a list of all available vendors and products in their given solution strategy. They could also be researching to narrow the long list down to a short list and ultimately making a final purchase decision.
At this stage you need to provide lead magnets that include more detail on your product or service features, pricing comparisons, product reviews, case studies etc that will help close the deal. Make it very clear how your product or service solves your buyers problem.
Using the appropriate lead generation magnet based on the customer journey to get contact information helps you to start a conversation with prospects and move them along the funnel towards the point they eventually buy from you.
What makes a Great Lead Magnet?
1. Solve a specific problem for your Buyer Persona
Lead magnets must solve one of your buyer persona's problems or pain points. If you don't deliver real value, your buyer persona may not go any further down your sales funnel. Don't forget to make sure your magnet is relevant to your core service offering too.
2. Be Specific
When creating your lead magnet be very specific about what the consumer is going to get. The more specific you are the better it will drive lead generation and conversions.
3. One Big Thing
A good lead magnet will promise the consumer one thing, and in most cases, this will be a quick win. And everybody loves quick wins!
4. Must have High Perceived Value
Make sure you put sufficient effort into making your lead magnet look professional and if you don't have the skills, hire someone to help with graphics etc Use tools like HubSpot or LeadPages to create great landing page experiences and make sure you optimise the title and the content.
5. Changes the Relationship
Once your lead consumes your offer, they should be left asking themselves about what else you can help them with. This should result in them looking for more information and drive them further down the sales funnel.
6. Easy to Consume
Lead magnets must be easy to consume. It's generally better to offer lead magnets that are quick to digest, but sometimes eBooks and whitepapers are more appropriate for their needs depending on what their pain point is and what stage they are at in the buyer's journey.
7. Deliver Immediately
People expect instant delivery, so try to deliver as soon as they submit their details. If it's not the type of lead magnet that lends itself to this, then set expectations and let them know exactly when they will receive the offer.

8. Demonstrate your Knowledge in your area
Its important that every lead magnet you create demonstrates your expert knowledge in your particular industry. This really helps build your reputation as well as with moving the lead further down the sales funnel.
Types of Lead Magnets
There are a lot of different types of lead magnets that you can use for targeted offers. Here are a few of the main ones that are good for SaaS and Software companies to use:
eBooks are one of the most common types of lead magnets. But be careful to be very specific with your content and make sure it is helpful to the buyer persona that you are targeting.
You can use software such as MS PowerPoint or Word to create eBooks and free tools like Canva to create graphics for it if you don't have graphics design software. You will also find lots of free eBook templates on the internet, which will save some time.
Tip: Optimise your landing page to make sure you give a catchy preview of what's inside the eBook and how it might help the person who is looking to download it.
The HubSpot landing page earlier in this article shows a clear, concise offer that tells the buyer what's in the eBook and does not ask for too much personal information, which is important at the awareness stage in the buyer's journey.
Checklists are a favorite, convert really well and very easy to prepare. They are easily consumed and can add significant value to prospects. Checklists are a really effective way of condensing broad topics into a set of steps that can be actioned. You can even condense one of your existing blog posts into a checklist and offer it as a lead magnet. An example of a checklist for a SaaS or Software company could be "Checklist of Factors to consider when choosing a vendor"or "Checklist on how to spend half the time managing projects with Project Management software".
Templates are a great option for lead magnets and can deliver a lot of value to buyers. They are easy to prepare and easily consumed. You can offer a template to help a prospect do something your product or service does even better! But it will get them thinking and engage them.
Bidsketch uses a template offer to give their leads a sneak peek at proposal templates.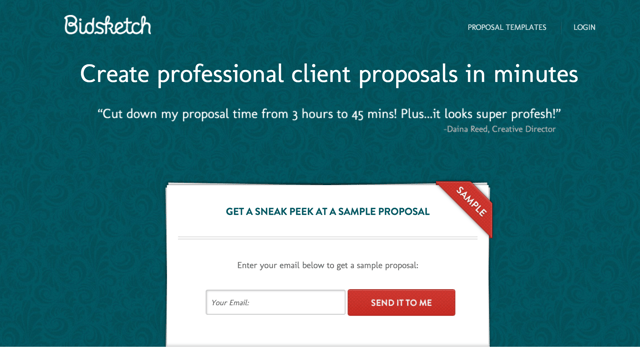 Whitepapers are a great way to show your expertise in your field, and that you understand the difficult problems that your customers face. The one downside to them is that they take a lot of time to prepare. Choose one of the challenges or pain points that your business solves for buyers, and create a whitepaper with detailed statistics, research and infographics. Whitepapers covering comparisons are great for SaaS and Software companies. You could include comparisons on vendors or products themselves.
Events are another great way to get face to face with prospects and make emotional connections. They can be a very casual event or a more formal one. It doesn't matter if not all of the registered attendees actually attend because you will have the contact information of those registered attendees who couldn't make it. You can still use this information to follow up and nurture those leads.
Use tools like Eventbrite to help you organise and publicise your events. If you are using HubSpot as a marketing platform you can integrate Eventbrite into your portal.
Your event could be about common problems in the field that your product or service addresses. This is a good way to engage people with invites that don't come across as a sales pitch.
Webinars are becoming more and more popular. They do take a bit of work to organise but are a great way to get good quality leads. Pick a topic of interest to your buyer personas and you can use a webinar to educate them while building your reputation as an authority on a subject. Make sure you promote it well in advance and provide enough information about the webinar well ahead of time to capture interest. Same as for the events lead magnet above, you can use the common problems/topics in their field approach.
Lots of SaaS and Software companies do these very successfully and get great attendance. For those who don't actually manage to attend the webinar on the day you still have their contact information to use.
I was on a webinar recently hosted by UXPin on Agile Prototyping Best Practices which had fabulous presenters who went through the topic in a lot of detail and didn't spend the time talking about their product. It was one in a series and after this one I found myself sending details of the next one in the series to a number of my friends in the design industry because it was so good. The fact that it was part of a series was a great idea because 1) they kept people engaged over a period of a few weeks and 2) it had the added benefit of attendees having time to refer others to the next webinar(s) in the series. My guess is that they got a lot of qualified leads as a result.
Now who doesn't love a good competition?! Competition's are great for a lot of things - generating leads and getting Social Media followers are just two of the benefits. They are really engaging and help you connect with your audience and learn more about them if put together properly to collect relevant useful details about them.
Case studies are very valuable in the decision stage. You can present you sales pitches as to why a prospect should choose your company, product or service, but sometimes Case Studies are enough to sway your prospect and help close the deal. Facts and figures are hard to argue. Use the case study to describe a customers problem and how you solved it. Include metrics that illustrate the success. Include a testimonial from the customers referenced in the case study so you can instil further confidence and close the deal. These are one of the most popular lead magnets for SaaS and Software companies.
Free offers are always winners, and it should go without saying that these are a must for SaaS and Software companies. Most people will want to try a product before making a decision to purchase, particularly if the cost is high.
Free trials can be found on most SaaS company websites. The Free Trial for JIRA software is particularly impressive as it puts a 3-minute high-level explanation video beside the Call to Action for the Free Trial, which provides a great high-level overview of the software and how it can benefit buyers. When the video finishes, the buyer just has to click the Free Trial button to sign up.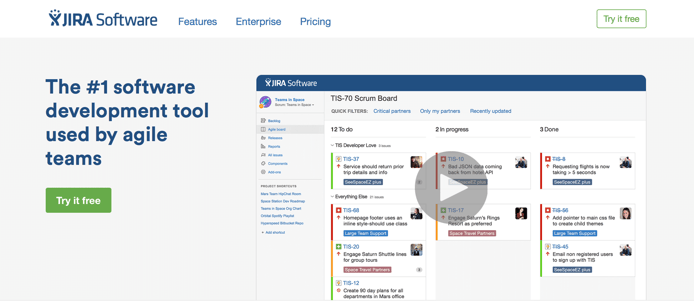 Potential customers have grown to expect these and a free trial should help close the deal. Steer well clear of asking for a credit card though as this puts people off.
Free consultations are also a great lead magnet. They invite your buyer to learn more about how you or your product can solve their problem(s). It gives you the opportunity to go through their challenges with them and show them where they need help and how exactly you can do that. If a consultation is relevant to your service offering make sure you include these on your website.
Offering a free demo of a product is a great lead magnet for the decision stage. At this point the prospect should have some knowledge of your product and this is a great way to reinforce how it will solve their challenge. Always make it easy for the prospect to schedule a demo and be sure to include CTA's on your website especially where the product detail is presented.
Other types of Lead Magnets include Toolkits, Resource Lists, Calendars, Planner, Worksheets, Printables, Calculators, Tutorials, Email Courses, Recordings, Slideshares, Quiz's, Challenges, Membership Sites etc. etc
So now that you know what a lead magnet is, very briefly here's how you implement them...
Choose a lead magnet for a buyer persona and buyers journey stage
Set up a marketing campaign around it
Choose your keywords the campaign will be based around
Create your lead magnet, the landing page, thank you page, emails and workflows
Put together and write a series of related blogs to use to publicise the lead magnet and add additional value
Plan and schedule the publishing of your blogs at intervals
Plan and schedule the distribution of your published blogs and lead magnet on social media channels, your website and via email lists
Review results as you go, tweak to improve results and go again
I hope this article has given you some insight into lead magnets and how they can be used to generate leads. Be sure to include them in your marketing strategy if you want to significantly increase your leads.
If you would like to read about more in-depth lead generation tips and tricks, how to create great landing pages, thank you pages, calls to action etc then download our tips and tricks eBook below.