So what is Marketing Automation? Marketing automation uses a particular type of software which allows companies to streamline, automate, and measure marketing tasks and workflows, so that they can increase operational efficiency and grow revenue faster with a lot less effort than if they didn't use it.
In HubSpot's State of Inbound Report 2016 they found that marketing automation is in the top 5 company priorities. It didn't appear in the top 9 in previous years so there's a big shift towards it.
So let's take a look at the reasons you need to automate your marketing and why it should be a priority in 2017.
Measure, Monitor, Tweak....
One of marketing automation's biggest benefits is that it enables you to monitor and measure the success of your marketing campaigns. By automating your marketing efforts you can easily measure the results of your campaigns across email, SEO, social media and other digital channels. Based on these insights you can review and optimise your marketing efforts and campaigns more regularly to achieve the best results.
The reporting modules in most marketing automation solutions provide visual reports which make it very easy to consume data and immediately spot important insights and trends. Below is a sample of part of a HubSpot Marketing dashboard, along with a few more detailed reports available.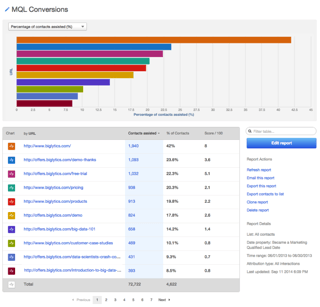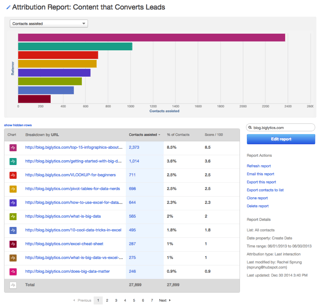 Having the ability to run these types of detailed reports at your fingertips makes marketing managers jobs much easier when it comes to regular reporting to Senior Management and your C-Suite. Reports can be run with minimum effort so you can provide more accurate, timely, insightful and useful information to senior management. These reports can be used to back up the success of your marketing efforts and help you secure necessary budgets for the future as well as prove your worth as a marketing team.
---
Download our Checklist for Running Inbound Marketing Campaigns.
---
Social Publishing
Social Publishing is a breeze with the right automation software. Every marketing department should have a content strategy with a social media calendar planned out well in advance for each weeks content publishing (or at least the majority of it). If you have this in place you can schedule your posts in advance so you don't need to be sat at your computer every time you are due to post. Some automation tools include import options so that you can bulk upload your complete post schedule in one go and have it automatically scheduled. This is a huge time saver which will let you get on with other important tasks.
Formalise your Workflow
Implementing marketing automation is great for streamlining and improving processes. Before you implement your manual processes you should take the time to document and optimise them ahead of automation. This can help highlight inefficiencies and help you streamline your process for better results.
You can then use your marketing automation software to implement these improved processes using workflows to ensure a consistent and timely experience for visitors, prospects and existing customers.
Lead Nurturing
Manual Lead nurturing is a labour intensive process. Automation software allows you to capture and track lead information in one central location. You can then use this information to automate lead nurturing to guide prospect's through the buyers journey and increase conversions. Once you have your workflows set up, a lot less effort will be required to keep leads interested and moving through the buyers journey. (Tip: Remember to set up different workflows for different buyer personas for different stages of the buyers journey.)
Reduce the Incidence of Mistakes
Like any other type of process automation, marketing automation will help eliminate errors. No matter what controls you have in place for manual processes people will always make the occasional mistake.
Marketing Team Productivity & Motivation
If you implement marketing automation you will free up a lot of time within your marketing team. This time can be used to focus on generation of new ideas for new campaigns, reviewing analytics, focusing on content creation etc. Overall you will have a much more productive team with the added bonus of having a more motivated team as a result of not having to do some of the more mundane (but essential) marketing tasks.
Increasing Revenue
Marketing automation increases revenue. It does this by facilitating improved targeting, closed loop reporting, lead nurturing, lead capture, metrics, insights and reporting. All of these contribute to your annual revenue.
78% of successful marketers cite marketing automation systems as most responsible for improving revenue contribution.
- Source: The Lenskold and Pedowitz Groups
Closed Loop Reporting
If you are considering Marketing Automation, then you also need to seriously consider a solution that integrates with your CRM so that you can complete closed-loop reporting, which is essential for success. Closed loop reporting enables you to close more sales from your leads, facilitates a more efficient process and helps better align your sales and marketing teams along with helping you to clearly demonstrate your value as a Marketing team.
89% of people surveyed who use marketing automation have integrated it with their CRM systems.
There are many CRM's available that integrate with Marketing Automation solutions. HubSpot for example offers a
FREE CRM
that integrates with their Marketing Automation software.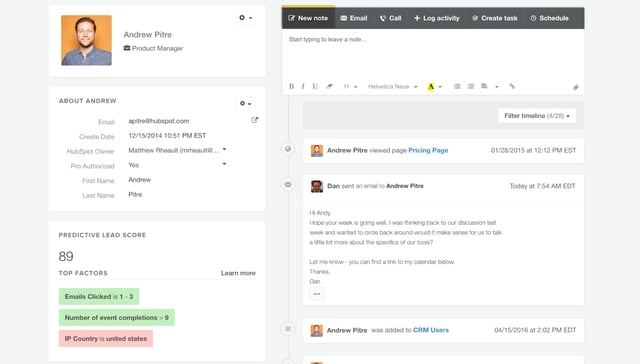 These are just some of the key reasons you need to automate your marketing and why it can be hugely beneficial. To be successful, remember to make it customer-centric. Use your buyer personas and their buyer journeys to personalise the experience and give leads, prospects and existing customers what they need when they are likely to need it.
When selecting a marketing automation solution, try and choose one that has functionality that covers the majority of your needs rather than getting loads of different tools and trying to piece them together and collate data from them all for reporting. The fewer pieces in the puzzle mean less manual integration effort and having all your data in one place makes life much easier. So if your budget permits, I recommend choosing a tool with the best coverage for your needs.
If you want to learn more about what's required to run a digital marketing campaign, download our 10 step checklist below. If you follow these steps and automate them, you will be well on the path to success.
If you want to talk to us about marketing automation or any other aspect of marketing please contact us for a free consultation.