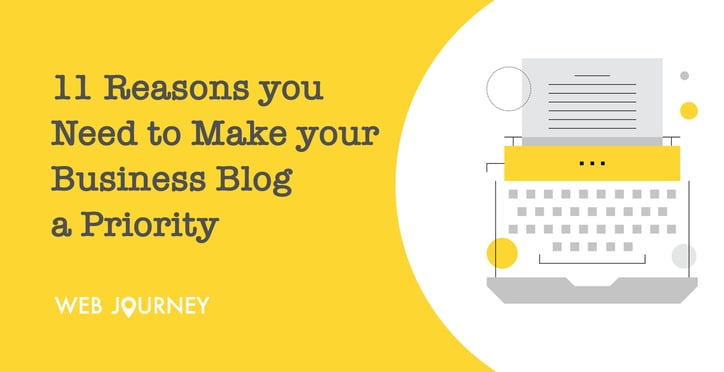 Blogging is one of the best marketing tactics that you can employ. It's no longer a 'nice to have' for companies that really want to grow and get the edge in competitive markets. It provides a multitude of benefits from lead generation to building brand awareness so if you don't currently have a blog its time you considered it.
B2B companies that blogged 11+ times per month had almost 3X more traffic than those blogging 0-1 times per month.
[Source: HubSpot]
In this article I'm going to go through the key reasons as to why you need to make blogging a priority for your company. Providing helpful compelling content to your audience can have a huge impact and here's why...
Driving Qualified Traffic to Your Website
Blogging is the No.1 way of organically attracting qualified traffic to your website. When you publish and promote a blog with relevant and educational content that's of interest to your intended audience, you will attract visitors and drive traffic to your site.
The chart below from HubSpot shows the average correlation between traffic and number of monthly blog posts. You can see that the more blogs you post the more traffic your website will attract. This in itself should be enough to convince you to get started!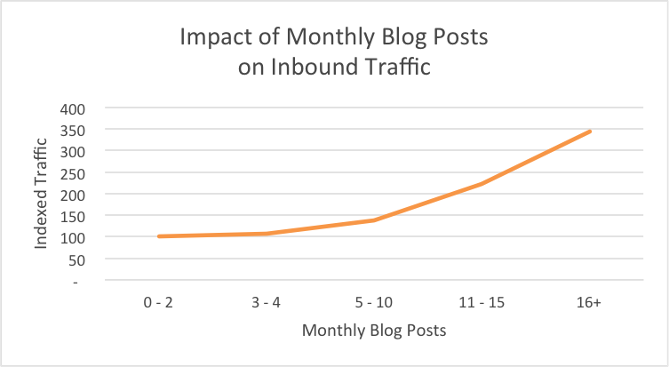 ---
Need some Free Expert Tips on how to improve your current marketing efforts? Book a Free Inbound Marketing Assessment and get some actionable advice on where you need to focus
---
Search Engine Benefits
Every time you create a blog post you are adding a new page to your website. With each new page that gets indexed by search engines, comes a new chance for you to show up in search engine results. Writing regular blogs has the added benefit of showing Google and other search engines that your website is current and active, and that they need to regularly check it for new pages.
On average, companies that blog receive 434% more indexed pages
[Source: HubSpot]
Lead Generation
When you start attracting traffic to your website via blogs your next priority is Lead Generation. Make sure that you have a way of converting interested visitors into leads. To do this you need to include a call to action for an offer (some free valuable content in return for some of the visitors basic information) which sends the visitor to a specially designed landing page that captures this information and allows them to download the offer.
B2B marketers that use blog posts get 67% more leads than those who dont
[Source: HubSpot]
When a visitor provides their details in return for an offer, you know that they are interested in your product or services which makes them qualified leads. By converting these visitors into leads you are increasing the likelihood of them becoming customers if you nurture them properly and have a solid sales process in place.
The chart below from HubSpot shows the average correlation between the no of leads generated and the number of monthly blog posts. So as you can see business blogging is a very powerful lead generation tactic.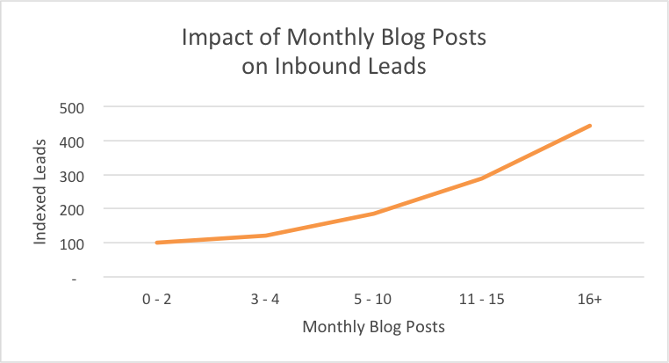 Close More Sales
Did you know that blogging is not just for attracting visitors? Its also a great tactic for closing more sales. Blogs are a great asset for your sales teams and they should be using them during the sales process to answer questions your leads and prospects may have. Great content that is relevant to your prospects needs will help them solve problems and built trust between you and a potential customer.
So make sure you sales teams collaborate with your marketing teams to ensure that content being created will be useful during the sales process too.
47% of buyers viewed 3-5 pieces of content before engaging with a sales rep.
[Source: HubSpot]
Social Media
By using social media to promote your blog posts you are extending your reach and giving your company new ways to be found by people who may not be aware you exist. Put a content calendar including a posting schedule in place to ensure it's an efficient and effective process. Make sure you check your buyer personas to see what social media channels you need to be posting on for maximum results.
(Check out our recent blog post on the importance of defining your target audience How to build a solid foundation for marketing success)
Build Authority
Having a blog provides companies with a great opportunity to show their expertise and helps them build authority in their industry. If you regularly blog about topics that help answer your visitors, leads and existing customers questions you will be able to build a reputation, trust and authority as an industry expert.
Don't forget that existing customers that are continuously educated will be happy ones and a lot will go on to become brand evangelists and may recommend you to other businesses.
Inexpensive Way of Building Brand Awareness
Blogging is a great way to build brand awareness. By regularly promoting your blogs on social media and other relevant sites like Medium you will be able to build awareness of your brand and the value you can bring to potential customers.
Increasing brand awareness is the top organizational goal for 74% of B2C companies using content marketing strategies
[Source: Content Marketing Institute]
If you are looking for more information on how you can increase your brand awareness check out 7 Powerful Ways of Using Content Marketing to Increase Brand Awareness.
Develop Relationships with Potential and Existing Customers
Blogging allows you to connect with your website visitors. This can be accomplished by asking your readers questions at the end of your posts to get the conversation going or by simply allowing comments and feedback. By reviewing and responding to your readers comments, you can create a relationship with your audience and build trust. By doing this, you will also be gaining very valuable insights into what your customers are looking for and how you can help them solve their problems.
Increase Reach with Social Sharing
By including Share options on your blog post you create an opportunity for your audience to share the blog with their own network. If your blog post is high quality and relevant to their needs, then they will share. So be sure to include social sharing buttons on each blog post to make it easy for readers to share the posts.
Link Building
You may know that inbound link building is very important for SEO. Another great side effect is helping increase your authority. If you are creating blog posts with great content then other websites will share your posts and create links taking their visitors back to your website. In fact ...
Companies who blog receive 97% more links to their website.
[Source: B2C]
Summary
Your blog is the core of your content marketing strategy. With a small amount of effort and cost you can achieve BIG results. So to recap the key benefits of blogging are
Driving traffic to your website
Search engine optimization
Lead generation
Close more sales by answering potential customers questions through blog posts
Extend your reach through social media
Build your authority in your industry
Build brand awareness
Develop relationships with visitors, leads and existing customers
Increase reach by promoting sharing on social media
Inbound link building
From a practical standpoint, blogging is just something that you must do. There are too many reasons to ignore it as a marketing strategy.
Keep an eye out for our next post where we will go through how to structure, optimize and create the perfect blog post.
In the meantime if you would like a FREE review of your current digital marketing efforts and some tips on where you should be focusing your attention why not sign up for our Free Inbound Marketing Assessment by clicking below.
You can also email me directly at sinead@webjourney.ie to arrange a call if you have a particular area you need some advice on.