In a previous article, we talked about websites and where they should fit into your overall marketing strategy (Article Where does your website fit into your overall marketing strategy). There are various tactics we employ to get visitors to your website but in this article, we will be talking about how your website needs to be designed in order to convert those visitors into leads. As long as the leads you generate are high-quality, the more leads you generate, the more sales you will achieve.
It goes without saying that converting visitors into leads is critical if you want your business to grow. To convert visitors you need to have a plan in place and design your website with lead generation as a primary goal.
Characteristics of a Lead-Generating Website
So what is a Lead?
A lead that comes in on your website is a person who has indicated an interest in your company's product or service. A top-of-the-funnel lead is a visitor who has entered some information on a form on your website. As soon as a visitor becomes a lead, they go through a qualification process by marketing before they are classed as a sales-ready lead. (This qualification process is agreed upon between your Marketing and Sales teams, and every company's qualification process differs.)
What is Lead Generation?
Lead generation is the process of converting strangers (visitors) into leads. It's a way of educating potential customers about their challenges and how your business can help solve this, and getting them on the path to eventually buying your product or service. The method by which you can do this using your website is what we are going to go through. We've picked the 6 key areas which will yield the greatest returns for you to get started with.
---
If you want to learn about lead generation best practices then download our guide by clicking below.
---
How do you make your website a lead-generating one?
You need to help visitors find what they need on each page of your website without having to think much about it. You must remember that visitors may be at different stages of the buyer's journey when they visit your website so the actions they may need to take will differ. They may
Be facing a challenge and are researching it
Know what their problem is and are looking for a solution or
Be at the stage where they are comparing providers who have the solution to their problem.
So your website needs to be designed and have content for all these types of visitors and it must have a clear and easy conversion path mapped out in order to convert these different types of visitors into leads.
There are a number of key elements you need to include in your website:-
1. Calls to Action (CTA's)
A Call to Action (CTA) is generally a button (but sometimes an image with what looks like a button on it) that grabs a visitor's attention and directs them to take action. This action will convert them into a lead and take them further down the funnel and, hopefully eventually onto a sale.
Including CTA's means that your visitors have a clear path to what they need to do next and don't have to think about it - it needs to be a natural flow for them. Think of them as directions to help you get somewhere if you are planning a journey.
So on every page of your website, you need to include at least one CTA (the Primary CTA) above the fold (ie. up top so you don't have to scroll) where it is immediately obvious. It's important to note that CTA's are not just for your main website pages; they should also be used in other places, such as
At the end of each blog post (this is essential)

In social media messages

In emails

In pay-per-click campaigns
The goal of your individual CTA's may be for a visitor to download something, contact you, subscribe to a newsletter, sign up for a product trial etc.
Having at least one primary CTA is essential but you can include secondary ones. This is more often the case with longer pages, but in some cases, companies include 2 beside each other.
In the following example, OptinMonster has one very clear CTA "Get OptinMonster Now" but beside it they actually have another very useful CTA for people who are not quite ready and need more information "Watch Video". After watching the video, it takes you straight back to where you were. Back to the primary CTA "Get OptinMonster Now". At this stage, they are hoping that the visitor has enough information and is ready to convert and sign up.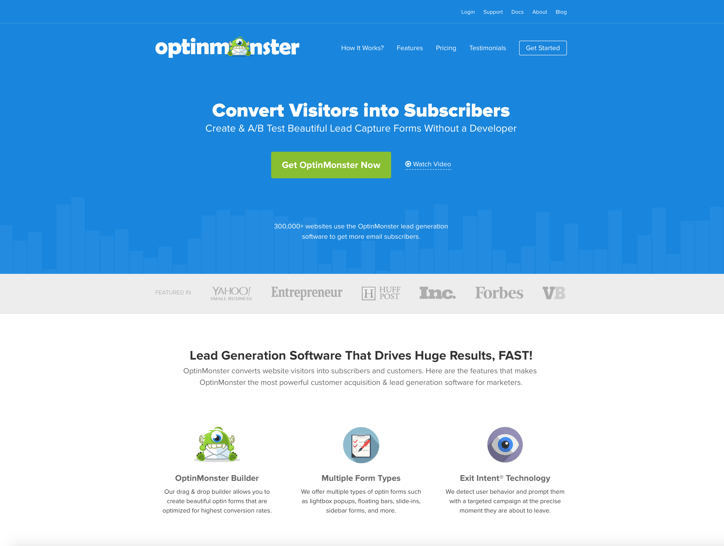 Another great example of where 2 CTA's are used is on Spotify. The primary CTA is the free version which you would assume most visitors would want to start with, and the secondary CTA is for the premium paid version. This is designed very well as the primary CTA is in a contrasting colour and stands out from the secondary CTA and in fact the rest of the page.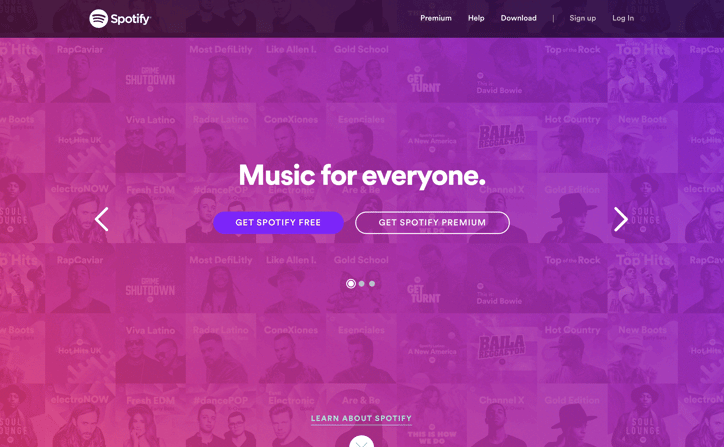 CTA Tip: Remember to use your buyer personas and their buyer journeys to map out your CTA's so that you get it right and successfully help visitors move further down the funnel towards closing a sale.
2. Landing Pages with 'Gated' Offers
A 'gated' offer is where you offer something of value to your visitor in return for some information about them, e.g. Name and Email Address. The benefit of these is that visitors are more inclined to provide their information if they are getting something valuable in return. When these visitors provide this information, they are converting into leads. Remember that the more relevant the offers you provide, the better your chances will be at generating leads.
Landing pages are used to provide these types of offers to visitors but need to be well designed using a number of best practice guidelines if they are going to produce results.
When designing landing pages, you need to consider how you will be able to get the visitor to convert. Design guidelines like keeping the page short and removing all of your website navigation (menus) to reduce distraction are very important.
The more landing pages on your website the more opportunities you have to generate leads. And if that isn't enough, they have the additional benefit of helping build your SEO which will help attract more visitors to your site in the first place! (Note that you will only get the SEO benefits if the landing pages are on your website domain and not ones hosted by third-party software on a non-specific domain).
Here's an example from Wishpond. You will see there is no top navigation, and so there is no way for visitors to get distracted and jump to another page, the value of the download is clearly explained, the form has a very clear CTA that stands out etc.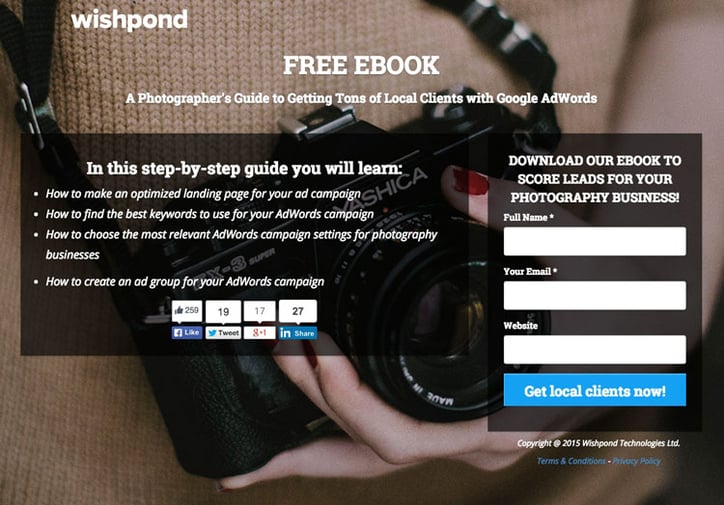 3. Forms
To convert visitors into leads, you need to capture their information. This requires a form. Some people call them "lead capture forms" or "lead generation forms". When a visitor decides to fill out a form and provide their information, they are showing interest in what you have to offer. At the point they become leads, you have a good chance of converting them into customers given that they have actively shown interest.
The obvious place to put forms is on landing pages, but you also need to include them on other pages on your website. Similar to the number of landing pages you have, each additional form you include on your website will increase your chances of converting visitors into leads.
If you have a WordPress website, you can use plugins like the very popular Contact Form 7, or if you have marketing software like HubSpot you can embed forms created in this software onto your standard website pages and track click-through rates, conversions etc., automatically. By using marketing software, you have the advantage of being able to link them to campaigns and automatically add their information to a list so that you can use automated email campaigns to nurture them. It will also help you measure how your forms are performing. If your forms are underperforming then A/B testing is a great way of improving the conversion rates and should be built into all your campaigns to fine-tune them.
As we mentioned in a recent article 9 Easy Ways To Increase Conversion Rates on Landing Pages, the design of forms is very important. Don't provide big long forms for a visitor to fill out unless you have to, or they will be less likely to convert. Look for a name and email to start, and if you want more qualified leads, add some additional fields. You need to decide what's important and consider progressive profiling.
The Wishpond example above has a simple form. Instead of having a button with the words 'Submit' it uses a catchy title "Get local clients now!". So consider your titles carefully.
4. Blogs - They're a Must Have
If you want to generate leads, you need a blog to attract traffic to your website. Building SEO is a long process, and a blog can accelerate building traffic to your website. For a blog to produce returns, you must be consistent and blog regularly. Write targeted blogs that your personas will be interested in to attract traffic as part of your lead-generation campaigns.
Since blogs provide a valuable source of traffic to your website, you need to include a CTA in all of them to engage your visitors further to increase your chances of converting them into leads.
This is an example of a CTA at the end of a recent HubSpot blog. The CTA in this case is an image that stands out from the rest of the blog with the actual button being very prominent.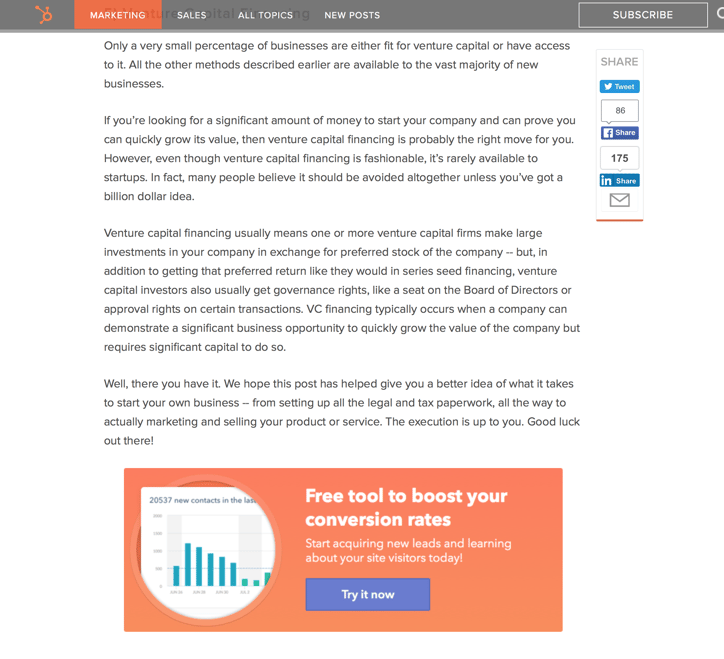 5. Testimonials
Once you have a visitor on your site a great way to help them convert into leads is to build trust by including testimonials. You need to earn their trust if they are going to provide you with their information and this is a great way of doing that. These ones from the OptinMonster site are great examples as they very clearly show the results achieved from using the OptinMonster software:


Case studies are also a great asset to have on your website as they show your visitors what value you have actually provided for other clients. They should include the clients challenge, what you did to overcome it and concrete facts about the results you achieved and how it helped them grow as a business.
6. Interstitials (or Pop Ups and sometimes called Opt-Ins)
Some people love them, and some people hate them. You need to make your own mind up on this one! But if you use them properly and with consideration for your visitor's experience, they can yield great results for lead generation. Just don't overdo it.
Here are some recommendations to help if you decide to include them:
The all-important timing - I don't recommend using a pop-up as soon as a visitor has landed on your website. Some people find them effective but I find them very distracting and annoying. You can time pop-ups to show up at different trigger points e.g. if the visitor moves further down a page or goes to leave the site.
Beware of how it's going to operate on a mobile device. Give it thoughtful consideration and test it properly.
Make sure the pop-up is going to add to the experience and not take away from it.
Don't make it too big. Google now penalizes you if you use pop-ups the wrong way. Check out their article Helping users easily access content on mobile - it contains useful tips and visuals on best practices that won't be penalized.
Using OptinMonster as an example again, the following is a pop-up they use when you go to exit their site, which is quite amusing and certainly grabs your attention!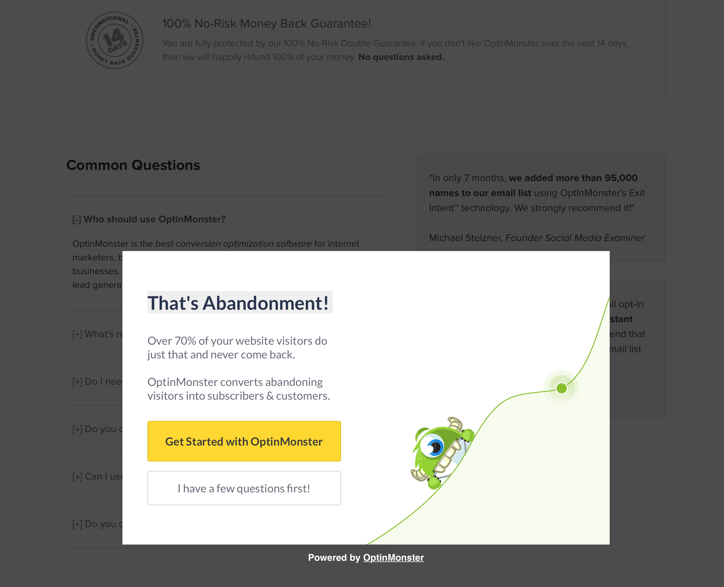 Here's a simple pop-up for a newsletter which has a better title than just "Sign up for our newsletter":

So you can make your own mind up about interstitials, but there is data backing up the fact that if done properly, they can be very effective.
---
Conclusion
So in summary, the key characteristics of a lead-generating website are:-
CTA's - Calls to Action - Direct your visitors
Landing Pages - Distraction-free pages with a specific lead generation goal
Forms - To collect visitor data in order to convert them to leads
Blogs - To drive traffic and help readers explore more with CTA's
Pop-ups - To capture leads
Testimonials - Social proof that your product or service is the best!
I hope you found this article useful and can use the tips to boost your own lead generation or overcome current challenges. If you already have a website, then take some time out to review it and go ahead and put a strategy in place to make some changes. If you are building a new website, make sure these recommendations are included in your designs. Use your analytics and A/B testing to ensure your CTA's, Forms etc, are generating the results you expect and regularly tweak based on those insights.
If you would like some more specific tips on lead generating Content, CTA's, Forms and Landing Pages then you should take a look at our lead generation tips and tricks. There are 31 of tips which can be tackled one or tow at a time to improve lead generation on your website.
If you are experiencing challenges with your lead generation and would like some further advice please feel free to contact us.