Inbound marketing focuses on attracting customers by using helpful and relevant content that adds value at every stage in your customer's buying journey. With inbound marketing, potential customers find you through channels like blogs, search engines, and social media. So it's a great way to achieve goals like bridging the gap between current growth and target growth, getting ahead of the competition, building brand awareness etc.
This guide to running an inbound marketing campaign will teach you all about how to plan and implement inbound marketing campaigns and covers topics such as:
What an inbound marketing campaign is and what structure it takes
How to target the right audience with buyer personas
How to set measurable goals so you can report on your campaign and on ROI
How to create campaign assets like the campaign offer, landing pages etc
How to promote your campaign
How to be helpful and nurture your leads
What metrics you should be looking to use for reporting on campaign performance
Download PDF Guide & Bonus Templates
The guide is also available in PDF format if you want to download it along with some useful templates. Just fill out your details below. Otherwise just continue scrolling.
01. What is Inbound Marketing?

Learn how Inbound Marketing matches todays buyers' behaviour and why traditional outbound marketing is no longer as effective.
The way people buy has changed dramatically over the last 10 years. Traditional outbound marketing tactics like Interruptive advertising, cold calling and mass emailing are all very 'marketer-centric'.
In recent years, control over the process has shifted from the Marketers to the Buyers, and as a result, these types of tactics don't work as well as they used to.
That's where Inbound marketing comes in. Inbound Marketing is buyer-centric and focuses on using quality content that educates and attracts people towards your business. Tactics such as Blogging, SEO, Lead Nurturing and Email marketing that align with your target audience's needs help move them onwards towards a sale.
Inbound marketing can help you bridge the gap between current revenue and target revenue by helping you
Attract more traffic to your website
Convert that traffic into leads
Convert those leads into customers
Get the most from your efforts by being measurable so that you can continuously improve your campaigns and report on ROI.

Take a look at the main differences below between Inbound Marketing and traditional Outbound Marketing: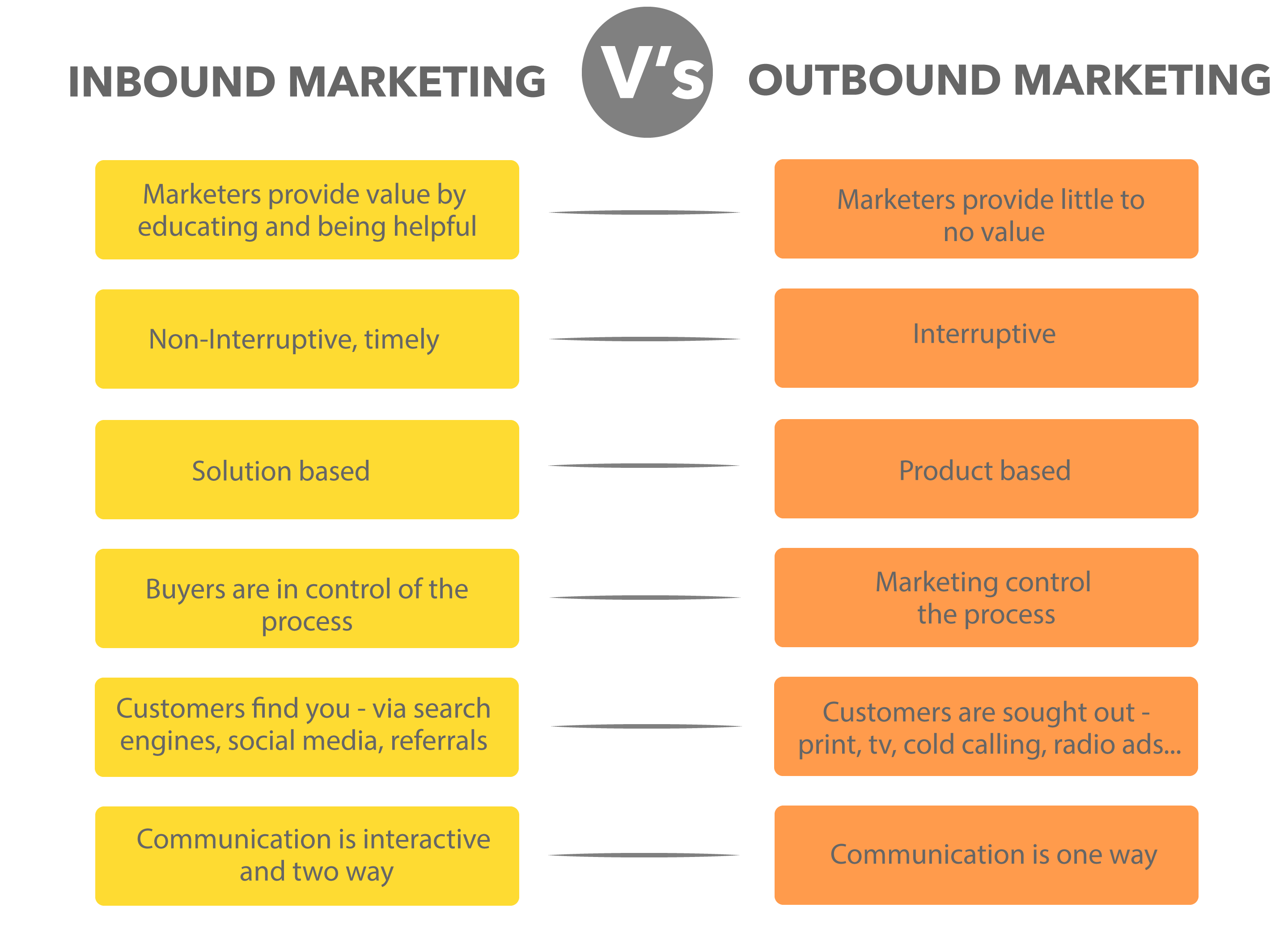 Inbound marketing is all about providing valuable, useful content that helps your target audience at the different stages of the buying process (or in Inbound terms, the 'buyers journey').

Because Inbound is all about the buyers, you must start by clearly defining your target audience. These definitions are called 'Buyer Personas' and are critical to successful inbound marketing strategies. Having an in-depth understanding of your buyer's preferences, pain points, challenges, etc. will enable you to be able to speak directly to them.
According to a HubSpot study, Only 29% of people want to talk to a salesperson to learn more about a product, while 62% will consult a search engine.
If you want to attract some of this 62%, then inbound marketing is a great way to achieve this.
If your content resonates with your prospects, then inbound marketing can generate 3 times as many leads at 62% less cost than traditional marketing.
The Four Stages of Inbound Marketing
The inbound marketing methodology is divided into 4 stages: Attract, Convert, Close and Delight. During each stage different tactics are used as you can see below: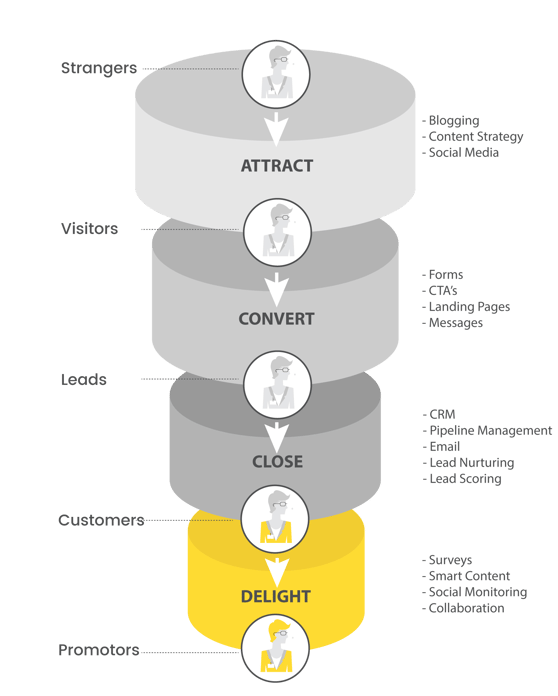 Stage 1 - Attract
Attract the people who are most likely to become leads and go on to become customers. Your 'ideal' customers. The Inbound Marketing methodology employs many tactics to attract your buyer personas such as your Website, SEO, Blogs and promotion on Social Media.
Stage 2 -

Convert

Once you've attracted the right kind of website visitors, the next step is to convert those visitors into leads by offering them some valuable content in exchange for some of their contact information e.g. First name and email address.

Create premium content offers such as eBooks, Whitepapers and Checklists along with Landing Pages, Calls to Action, Forms and a CRM to store the data.
Stage 3 -

Close

Once you have attracted the right visitors and converted them into leads, you need to transform those leads into customers. Use email marketing for lead nurturing, a CRM to track activity with leads and closed loop reporting to measure success. Marketing automation will help ensure regular contact with leads as they go through the process.
Stage 4 -

Delight

Inbound marketing is all about providing remarkable content to your visitors, leads, and existing customers. Even after a sale, you need to continue to engage with, delight, and hopefully convert your customers into happy promoters of the organization and products/services they love.
02. Inbound Campaign Structure

Learn about how Inbound Marketing Campaign's work and what assets you'll need to create.
Definition of an Inbound Campaign
Now that you know what Inbound Marketing is, we will look at what an Inbound Marketing Campaign is.
A campaign, in Inbound terms, is defined as a marketing push, run across some connected channels that is centred around one single goal or message. They are often time-related, focused on a particular event (e.g. webinar) or around a specific piece of premium content, e.g. A 'How to Guide" that's relevant and helpful for your target audience.
Let's have a look at the conversion process:-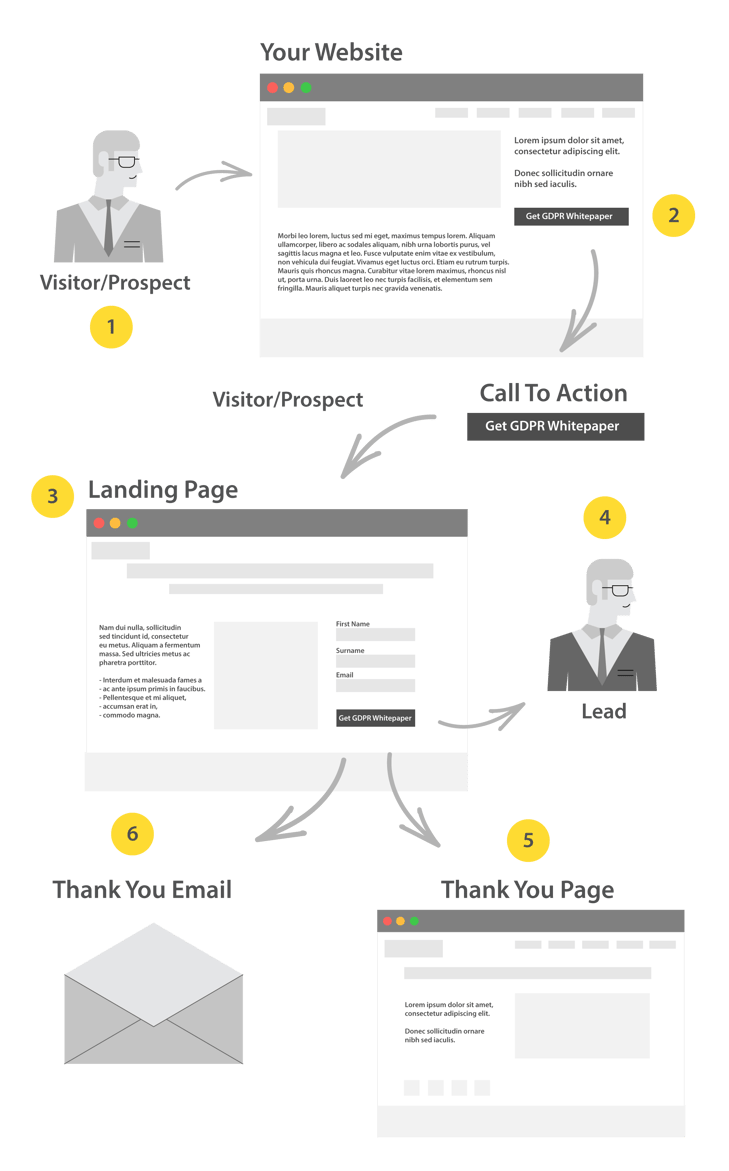 Inbound Campaign Elements
Inbound Marketing Campaigns consist of all or some of the following elements :
Keywords - set of targeted keywords for your campaign.
Landing Pages - Main landing page, Thank You page and maybe variations of your main landing page that may be more suited for visitors from paid advertising for example.
Forms - For the visitors to input details so that they can download offer, register for an event, view a video etc.
Calls to Action (CTA's) - For blog posts, website etc.
Blog Posts - related to the campaign to help promote it
Social Messages - Social media messages relating to the campaign, e.g. to promote Landing Page, Blog Posts etc. associated with your campaign
Emails - Thank you email, emails for sending offer to existing clients, lead nurturing emails for new leads generated from the campaign
Paid Advertising - AdWords, Facebook, LinkedIn etc.
Workflows (Lead Nurturing) - Used to help automate lead nurturing to continuing to educate leads or help move them further through the sales process
Campaign Reports - Reports detailing campaign performance including metrics such as visitors, leads, customers, social media engagement, blog post views etc.
03. Buyer Personas

Learn about buyer personas and why they are essential to attract the right types of visitors to your website and campaign offers.
Target the Right Audience for the Right Kinds of Leads
Before we get into the detail of inbound marketing campaigns, we need to look at the basics that create a strong foundation for your campaigns. For any marketing to be successful, you need to know whom you are speaking to - your ideal buyers. In Inbound, Buyer Personas are semi-fictional representations of your ideal customer.
These profiles are developed from market research and real data about your existing customers (through surveys, interviews, and information from departments like sales, customer service etc.). They include demographics, communication preferences, background (personal and career), challenges, goals, the definition of success etc. Depending on your business, you may just have as few as one or two personas or as many as ten or more.
Tip: If you're new to developing personas for your business, then make sure you walk before you can run. Start with 1-3. You can create more personas later once you get the key ones together. Having well-researched personas will allow you to personalise and target your marketing. For example, you can define campaigns for a specific buyer persona, segment your lead list by buyer persona and tailor your messaging according to what you know about those different personas.
Take a look at this subsection of a buyer persona for an IT Manager: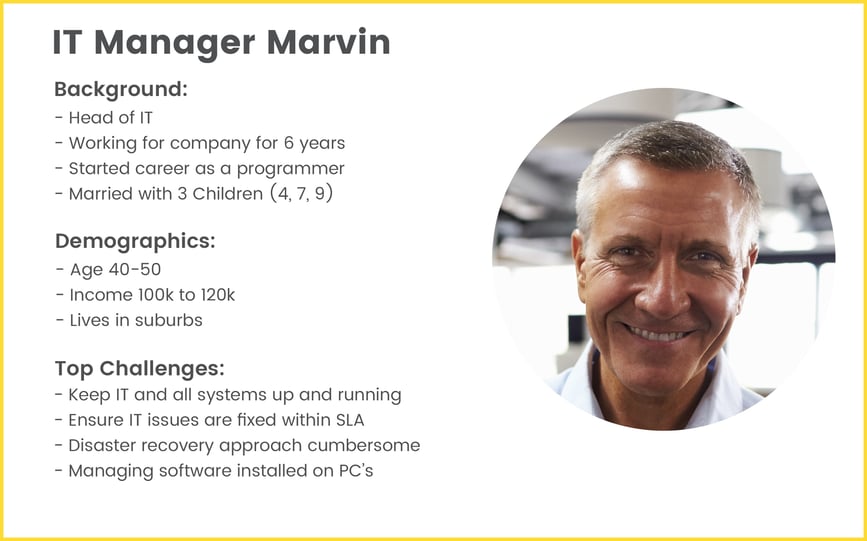 Immediately you can see some of the challenges this persona is facing. As you are trying to solve challenges and address pain points for your target audience you should use this information to identify content and offers that will be of value to them at each stage of the buyer's journey.
In a previous blog "How To Attract Ideal Clients to your Website" we outlined the key information that comprises a buyer persona. At a high level this includes:
General demographic & biographic information - Job titles, Roles, Responsibilities, Salary, Industry etc
Common Behavior Patterns - Drivers, Motivations, How they like to communicate
Pain Points & Challenges (professional, personal)
Goals
Here are more detailed examples of the types of data you need to collect for your personas:
Personal Background
Age
Family (single, married, children)
Education
Company
What industry does their company work in?
What is the size of their company?
What's their annual revenue?
Role
What is their job title and what does their role encompass?
How is their performance/success measured?
What is a typical day like - what tasks do they complete?
What skills are required to do their job?
What knowledge and tools do they use to complete important tasks?
Who do they report to? Who reports to them? How many?
Goals
What are their main responsibilities?
What does it mean to be successful in their role? How do they define success?
Challenges
What are their biggest challenges and pain points?
How do they overcome these challenges today?
Hangouts
How do they learn about new information for their job?
What publications do they regularly read?
What blogs do they follow?
What associations do they belong to?
What social networks are they active on?
Shopping Preferences
How to they prefer to interact with vendors (email, phone, in person?)
Do they use the internet to research vendors or products?
How do they search for information?
What types of websites do they use?
Buyer persona industry expert Adele Revella was asked In a post on Medium by input.io, what the biggest mistakes companies make when putting together buyer personas were. Adele said companies build too many personas based on 'obvious demographic data'. She says the goal is to gain new insights into why, when and how customers make the decisions you want to influence.
Adele went on to say that 'When buyer personas describe meaningful variations in your customer's mindset and frustrations throughout their journey, you'll know how to align your sales and marketing strategies to earn each persona's business'.
Useful Resources:
Buyer Persona Institute -

Infographic

& website in general
Book – Buyer Personas by Adele Revella
04. Campaign Goals

Learn how to set S.M.A.R.T. campaign goals so that you can measure your success and report on it.
Be SMART About Your Goals
When you are planning a campaign, you need to have a specific goal (or goals) in mind. All of your marketing goals should come from business goals. The business goal may be translated into a sales goal, and this sales goal translated into a marketing goal - this is why it's so important that everyone is properly aligned.
Take this example
The business goal may be to generate €50,000 in new business revenue from the campaign that will run in Q1.
The sales goal required to generate that €50,000 in revenue may be for the sales team to close 10 deals (each deal would be worth 5,000) in Q1. In order to close 10 deals, the sales team may require 50 Sales Qualified leads if you are targeting a 20% conversion rate of SQL's to customers
The Marketing goal to support this may be to generate 2,000 visitors, 10% of which convert into leads i.e. 200 leads. Of these 200 leads, 50 of them become sales qualified leads (25% conversion rate)
When you are planning your campaign, you need to be able to measure success. In order to do this, you need to make sure that your end goal is a measurable one. So carefully plan your goals and consider using the SMART Goal framework:
Specific
When creating a goal, you want it to be as short and specific as possible. Having a goal like "grow website traffic" or "improve email marketing open rates" isn't specific enough. Instead, set goals like "increase leads generated by 10% by end Q2 2017", or "increase email open rates to 60% by end Q4 2017".
Measurable
When you set any goals you need to be able to measure them. If you can't, then how will you know how you have done? How can you measure success if you don't know what you're measuring against?
Take the example of "increase leads generated by 10% by end Q2 2017". This is a great goal as you know what your current lead generation volumes are and so it is easy to calculate what an increase of 10% will be. You can use this to track month on month against your goal to keep on top of progress and tweak your tactics if its not increasing quickly enough. At the end of Q2 2017 you will know straight away if you hit your goal or not.
Attainable
SMART goals need to be realistic and attainable. While its admirable to shoot for the stars, it's not a good basis for goal setting and you're unlikely to achieve these types of goals. So setting realistic goals is the best way forward. You can still try to beat them but at least you are being realistic.
So for example if you are currently generating 100 leads per month its not realistic to set a goal of generating 500 leads by the end of next month (unless you have some marketing superpower that is). This is a 500% increase and is a goal you are unlikely to achieve. Setting unachievable goals can demotivate people who are tasked with trying to achieve them too so keep that in mind. SMART goals will actually encourage success and even over achievement.
Relevant
There's no point setting a goal that doesn't matter to your business or is one that it can't handle.
Say you have limited sales resources. Your goal of "increase leads generated by 10% by end Q2 2017" won't make any difference to company growth if you don't have the salespeople to follow up with these additional leads.
So why set that goal?
In that particular case it may be better to set a goal around converting more leads into customers so your existing sales people can employ better tactics to achieve that goal, be more efficient, review their process etc.
So make sure your goals are relevant or they won't mean anything.
Time-Bound
A goal is not a goal if you don't set a date to achieve it. Without a date you have nothing to work towards, there will be no sense of urgency and its unlikely that you will reach it. So be specific about when you want to accomplish your goal and start planning how you will actually achieve it.
Here's a short video summarising SMART goals which includes some useful examples
Tips to Increase Chances of Success
Make sure the Marketing team are fully aligned with the Sales team and their goals
Make sure all goals align to overall business goals
Share your Marketing goals with your team and colleagues outside of the team to help make you accountable for them and ensure everyone is on the same page
Run your goals past your team and anyone else who may have valuable input or be able to help you achieve them
Share progress against goals weekly or monthly - be transparent
Useful Resources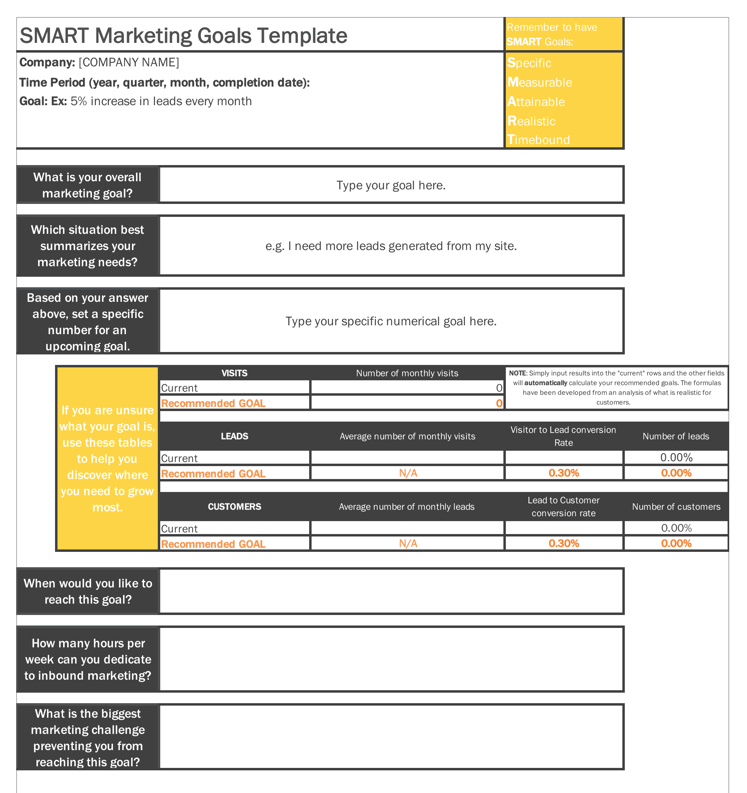 The template focuses on 3 key metrics - Visitors, Leads and Customers and will help you define your own goals.
05. Content Offer

Learn about the different types of content offer and how they align to the buyers journey.
What's a Content Offer?
Inbound marketing campaigns are structured around a premium 'offer'. By 'offer' we don't generally mean a discount, we mean something that helps solve a particular challenge or pain-point for your buyer persona.
The offer could be an eBook, Whitepaper, Webinar, Event, Free Calculator, Checklist etc. Different types of offers are used at different stages of the buyer's journey.
Take a look at the infographic below and the different types of content that are relevant for each stage.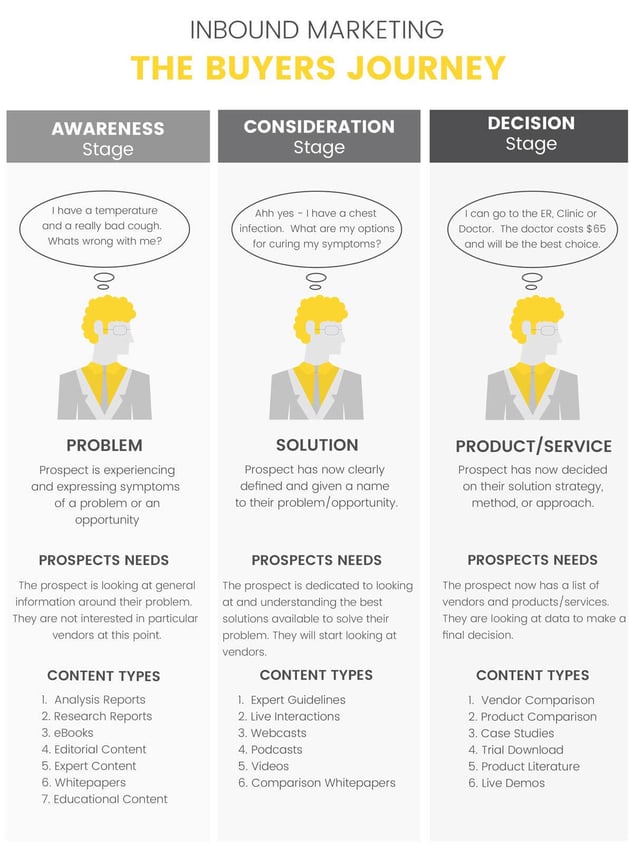 Make it a Valuable Offer That Solves Problems
The best way to come up with ideas for your content offers is to look at your buyer personas. For each persona and each stage of the buyers journey map out premium content offers that will be very valuable. Brainstorm them with your team and others like the sales team.
This is a great starting point and once you are up and running with inbound you can start to plan offers around things like new products or services, technologies etc.
Above all your offer needs to
Offer value to your target audience - normally to a specific persona (although it may appeal to more than one)
Address a challenge for a single stage of the buyers journey
Align with your business goals. This is key.
When you have mapped out and prioritised your content offers you are ready to start implementing them.
Tip: Make sure your offer is put together professionally and is in line with brand messaging, branding etc.
06. Landing Pages

Learn how to plan & design high-converting landing pages for your campaigns
So, you've set your goals and decided on a content offer for the campaign. Now you need to get the rest of the components in place. Let's start with your landing page.
What is a Landing Page?
The Landing Page is the page you want to drive traffic to for your campaign. It will describe your offer, where visitors will decide whether or not your campaign offer is valuable enough for them to provide their details.
If you want your visitors to convert on your landing page, you need to spend time on the design and copy for the page to maximise conversions. You don't have long to convince your visitor to convert so you need to make sure that you answer the following quickly:
What is the offer for?
How is it of value to me?
Why do I need it?
How do I get it?
Landing Pages have the following key components: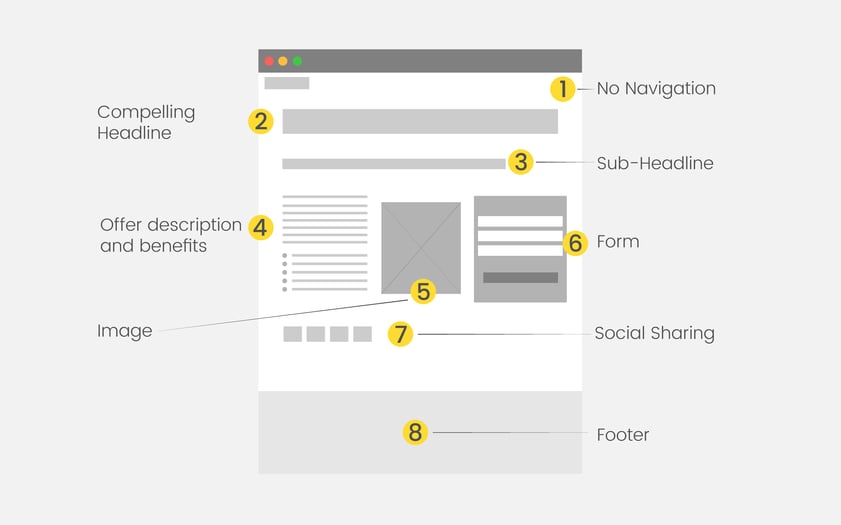 1. No Navigation
In order to keep visitors focused while on your landing page you need to remove all navigation links on landing pages i.e. No menu. Having navigation on this page is a distraction and your goal is to keep the visitor on this page so that they provide their details.
2. Compelling Headline
Tell your visitors what they are going to get and how they are going to get it.

Use a headline that is compelling, action orientated and concise.

Your headline needs to let your visitors know how your offer is going to benefit them.
Include the type of offer it is e.g. If the format is video then use 'Video' in the headline. If its a whitepaper then use the word 'Whitepaper' in the headline. You get the jist!

Don't use headlines like 'Download Guide'. Use ones like 'Download our Free Guide on How to Run an Inbound Marketing Campaign'.

Be sure to include

the type of offer in the header, like eBook or Template, so that search engines understand the offer, too.
An easy formula to follow when drafting a headline is to ... use an action verb + explain what the offer is + explain the offer's benefit to the visitor
Make sure your header passes the 'blink test'. Test this by getting some colleagues to look at the landing page quickly and tell you what the offer is all about and how it will help them if they were a visitor.
3. Subheadline
A subheadline can be used to summarise the value of the offer. Again - take your time putting this together as it may impact conversion rates if its not right.
4. Offer Description and Benefits
The copy included in this section can mean the difference between someone converting and someone not. Keep it short and concise - approx 1-3 sentences. Make sure your copy explains how someone will benefit from the offer.
Use formatting to emphasise important points, e.g. bolding text and bullets. This will also make the copy easy to scan.
5. Image
An image speaks a thousand words. People consume images quicker than they do text, so they're much more powerful. Include a relevant image that represents the offer whether it's in the body of the page or in the format of a hero image behind the headline at the top of the page.
6. Form
The length of your form should mirror the value of the offer. If it is a particularly valuable piece of content then you can try using slightly longer forms but note that the length of the form will have a direct impact on conversions.
Ever leave a landing page that asks for too many details?
When deciding on fields to be included ask yourself questions like...
Do you really need their surname?

If you are asking for a company website address do you really need to ask them for the company name too when it can be derived from the website address?

We often talk with businesses who wonder why their landing pages with 10 form fields don't convert. People don't like long forms so keep it as short as possible based on the value it offers.



Tip: Make sure the form is above the fold (top part of website page) so the visitor doesn't have to scroll down.
7. Social Sharing
A visitor who lands on your landing page may consider it as high-value content and something they want to share. So consider including social sharing options for key channels.
8. Footer
Although the footer is not a key component - don't forget it - make sure it matches your website footer for a consistent experience.
Example Landing Page
Here's an example of one of our high-converting landing pages: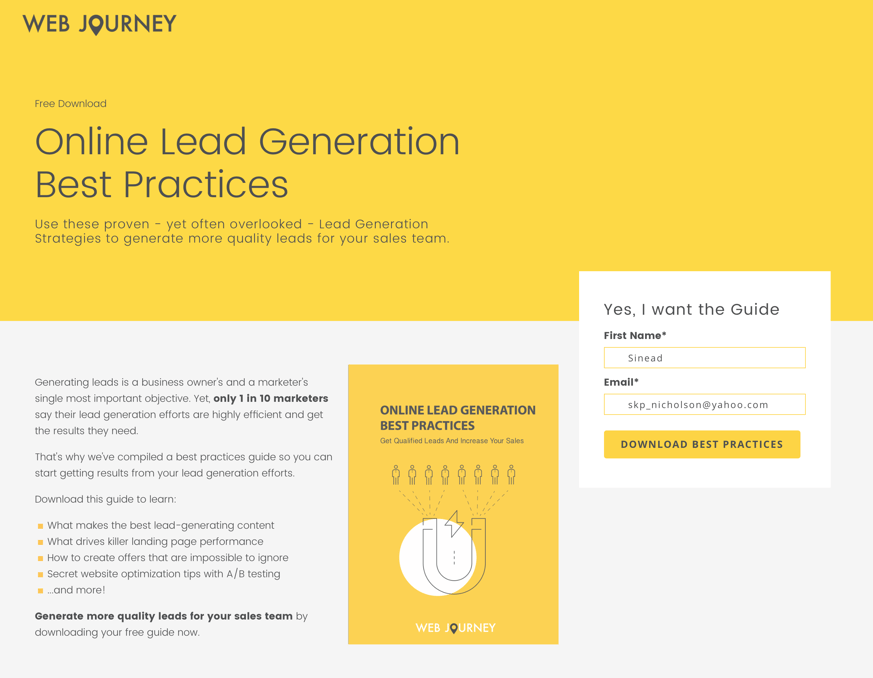 Useful Resources
07. Thank You Page

Learn how to design and write the perfect Thank You Page and use it as an opportunity to move visitors towards a sale.
Further Engage Your Prospects
Ever convert on a landing page and see a small inline message lost on the page somewhere to say thank you. This doesn't provide a great experience, nor is there anywhere for your visitor to go next.
So if you want to keep your visitors engaged, the next thing you do after a conversion is show a 'Thank You' page.
Use a thank you page to say thanks and to provide an opportunity for your prospect to engage further. Guide them based on what they have just done. Example you can
Present them with the opportunity to talk with someone or
Provide some more useful content – maybe a couple of related blog posts
Thank You pages are a great opportunity and not one to be missed.
Thank You Page Best Practices
Here are some guidelines for your Thank You pages
Deliver what you promised or set expectations
If the offer is something like a Free Assessment then set expectations as to when they should expect to hear from you, e.g. we will email you within 2 business days to set up a meeting
Show Site Navigation (Menus)
Unlike Landing Pages, Thank You pages should include navigation options at the top of the page. Now that your prospect has converted you want them to take a look at the website in more detail.
Provide Additional Content
If you have any additional content that relates to your offer, then consider presenting it here. E.g. Related Blog Posts
Move Leads Further Down the Process (or buyers journey)
Some leads who've just converted may well be ready to move further along the buyer's journey. If that's the case having another offer on the Thank You page will give them the opportunity to do this.
Social sharing options
Extend your reach on social networks by including sharing options on this page for the main campaign landing page.
Thank You email
Send a 'Thank You' email with a link to the Thank You Page in case the lead needs to download the offer again.
08. Campaign Promotion

Learn how to promote your new campaign so that you can start attracting visitors to your offer.
You're Ready to Start Driving Traffic!
Now that you have created your offer, landing pages etc., you need to start promoting it and getting as much qualified traffic to it as you can. Here's a few tips on how to promote it.
CTA's – Calls to Action
Firstly you must ensure you have well-designed CTA's - Calls to Action. You can create a plain button CTA, an image-based CTA etc. These can be placed on website pages, blog posts, other campaign offers thank you pages, emails, email signatures etc. to help spread the word.
Here are a couple of examples of ours that we have included in blog posts so that you can see the difference: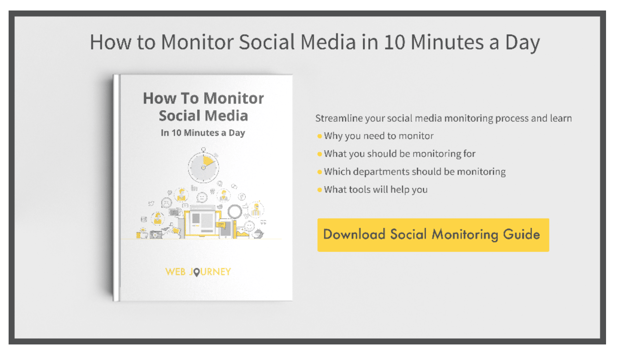 Image CTA

Button CTA
If you are using Marketing Software like HubSpot you will be able to track metrics like Views, Click Rate, Clicks, Submission Rate, Submissions and pages they were clicked on from your CTA's.
More advanced software like HubSpot, some plans allow you to A/B test different variations of your CTA which is very useful in helping you to figure out what works best for your audience.
Blogging
Blogging is one of the most effective ways of driving traffic to your website and to a campaign offer. In a recent HubSpot survey they found that

B2B companies that blogged 11+ times per month had almost 3X more traffic than those blogging 0-1 times per month.
HubSpot also found that 1 in 10 blog posts are compounding, which means that organic search increases their traffic over time. The impact of this is that your CTA's for your campaign will continue to get views and conversions. If you use marketing software to track visitors to your blog pages, you will notice this over time.
When planning your campaign, you will have compiled a list of relevant blog posts to promote your offer. Put these into a content calendar with due dates so that the whole team know what's due and when.
If you need some tips on writing optimized blog posts check out our recent blog article 10 Steps to Writing an Optimized Blog Post.
As you write the blog posts make sure you promote them on various channels like social media along with using email to get them out to existing contacts.
Tip: Make sure you include CTA's in every blog post you publish. Mix them up until you fund out what works best. Example: Include a Link CTA (yes just a line of text and a link!) or Button CTA after the first couple of paragraphs of the post (in case readers dont read until the end of the post) and then an Image CTA down the bottom of the post. One that stands out.
Social Media
Social media helps get your content in front of the right people and spread the word about your business. As part of developing your personas, you will have identified the social platforms that they are most active. If you are new to social media, try starting with just 2 rather than trying to build a presence on all of them at once.
Use social media to promote your posts around your offer using relevant hashtags. By using relevant hashtags, you will be able to reach existing followers as well as a new audience.
As part of your campaign, you will need to set up a social media content calendar. If you do this upfront, you can use tools like Hootsuite or HubSpot to schedule your posts in advance.
To catch your audience's attention on social media - publish your blogs and landing page promotions with
Eye-catching messages
Well-researched hashtags (use tools like

RiteTag

and

Hashtagify

) that you can monitor afterwards to see if people are asking questions or commenting on it
An attractive image or graphic (you can use a tool like

Canva

if you don't have any paid subscriptions to other tools or have an in-house designer).

The click-through rate (CTR) of posts containing photos is 128% higher than the CTR of posts containing videos or links. Also, if Facebook is one of your key channels,

photos on Facebook generate 53% more Likes

than the average post.
Email
Now that you have a new offer (and related blog posts), you need to look and see which of your existing leads, subscribers or customers may find it valuable. Here are some ideas for what you can do with email marketing to promote your campaign
If you are using the offer to promote a new service or product, you may want to cross-sell to existing customers - send these customers an email with details of the new offer
If you have seen a set of contacts regularly visiting a particular page that contains content related to the offer, then consider sending them an email.
You may have leads in early stages of the buyer's journey who may find this valuable and may help move them further down the funnel. Send the offer to these or send an automated sequence of emails for the blog posts
Paid Search
Paid search is a great way of boosting your promotion efforts instantly. Look at your keywords for the campaign, related blog posts and if you want to keep the costs down, using long-tail keywords may be a better option. The volume may be lower, but aside from the potential cost advantages, you may reach a more qualified audience with higher chances of conversion.
Display advertising is another good option but make sure you have a well-designed and catchy display ad!
Tip: Don't just focus on AdWords, look at some PPC on Bing too.
Paid Social Media
Paid promotion on social media is another good option and particularly with recent changes in post priorities on channels like Facebook.
Execute your paid social on the top channels where your personas are present. Look at LinkedIn, Facebook, Twitter etc.
Use specially created 'audiences' and retargeting to promote your offer to people who may be interested in it.
Your Website
Yes – people forget to put their offer on their website! Again if you are using software like HubSpot Marketing, you can embed a HubSpot image based CTA directly on your website pages.
Also, consider setting up a 'Resources' Page and add a link on your navigation too where visitors can see all of your campaign offers. You will have visitors that didn't originate from social or paid channels so this will be there for anyone looking at your site from organic or direct traffic.
Check out our Free Resources page here for some inspiration.
Useful Resources
Template: "Web Journey - Content and Social Marketing Scheduling Template" which is included in the PDF download for this guide.
09. List Segmentation

Learn how to segment your contact lists and target the right audience, at the right time with the right content.
Right Content, Right Audience, Right Time
List segmentation is about breaking up your contact list into smaller segments. They can be sliced and diced whatever way suits your needs e.g.
Company Segmentation
Company size
Company type
Industry
Role Segmentation
Department
Seniority
Function
Behavioural
Conversion Events
Email Opens
Website Page Views
No of downloads
Blog views
By segmenting your list you can send more personalised content - content that is more relevant, timely, and engaging for a particular group of contacts. Content that may help move contacts further along the buying process or further educate existing customers.
Segmentation is so effective that it's reported that

62% more clicks are received on targeted email sends than on non-segmented lists.
Tip: When you are planning your forms and the information you need to get from subscribers, you need to consider segmentation. What information will you need to do segmentation that will be beneficial?
List segmentation is mainly about generating new customers but is very beneficial for cross selling and upselling to existing customers so keep this in mind too.
10. Lead Nurturing

Learn how to plan & design high converting landing pages for your campaigns
Don't Let Visitors Convert and Forget
Lead nurturing is a significant part of inbound marketing. It's a system that allows you to send an automated series of emails to early stage leads in order to qualify them before handing off to your sales team.
Lead nurturing enables marketers to connect quickly with their contacts and remain top of their prospects minds. If you are not nurturing early stage leads you are wasting money.
Consider these statistics
5%-25% of traffic on your website is actually ready to purchase your product or services.
25-50% of sales go to the vendor that responds fast
Lead nurturing emails get 4-10 times the response rate of standalone email blasts
Approximately 25% of leads are legitimate and will end up going to sales.
Nurtured leads have a 23% shorter sales cycle
Take for example someone who is at the top of the funnel and converts into a lead. It's generally not the right time to pick up the phone and call them.
Instead set up automated lead nurturing emails and send them relevant content spaced out over a couple of weeks. Note that the timing here will depend on the length of your sales cycle - e.g. if your sales cycle is typically a month then space the emails out over a month.
Try and mix up your content and send some different formats e.g. Blog Posts, Video's, Infographics etc For example
Once you set lead nurturing in place be sure to keep an eye on how they engage with those emails and content, and tweak if necessary to try and improve results.
Benefits of Lead Nurturing
Automated Process - Once set up, lead nurturing emails can be sent automatically
Shorter Sales Cycle - As we mentioned above nurtured leads can have a 23% shorter sales cycle. By implementing lead nurturing, the marketing team will have a significant impact on the sales process.
Timely - Email nurturing is timely. Studies suggest that email response rates decline over the age of the lead. So if you implement this process then you will eliminate that risk without having to think about it
Precise Targeting - Targeted, personalized emails have been proven to work better than mass email communications. You can craft different follow ups depending on what action your lead has taken on your website and from the information they fill out on your form.
Example of what a sequence might look like
Day 0: Thank You email with download link
Day 1: Did you get a chance to read the download, did you find answers to what you were looking for?
Day 3: Here's a related blog post that may be of interest
Day 7: Another Link to a blog post (maybe include some stats)
Day 12: Related offer that may be valuable
Day 18: Would you like to have a chat?
Day 25: Case Study
Day 32: Free Assessment
5 Steps to Lead Nurturing
Step 1: Set your goal
Before you set up your lead nurturing you need to have a clear goal in mind. It may be to try and warm up some old cold leads or maybe increase the quality of your lead.
Step 2: Choose your Buyer Persona
Decide on who it is you are trying to reach e.g. is it IT Manager Mark or CFO Frank. The type of lead nurturing you set up for these different personas is likely to be completely different.
Step 3: Use Existing Content
Content is key to lead nurturing. Look at the content you already have in place and see what fits your lead nurturing goal. If you don't have anything suitable then make a plan to create some.
Step 4: Set a timeline
Your timeline should fit in with your sales cycle. Include about 3 lead nurturing emails and space out appropriately.
Step 5: Measure and improve
You must know what's working and what isn't. Look at some metrics that align to your goal, measure and try and improve on results.
Ideas for Lead Nurturing Campaigns
Here are a few ideas for your lead nurturing campaigns...
Educational email
Promotional email
Best Practices email
Demo / Product email
Personal email
List of Resources email
Optimising Lead Nurturing Campaigns
1. Compelling Subject Line
If you're subject line isn't compelling then your emails won't get opened - it's that simple. Be as specific as possible and try keep it under 80 characters.
2. Short is Sweet
Most people quickly scan emails when they open them to see if they are of interest. With this in mind, keep your lead nurturing emails short and to the point if you want them to be read.
3. Make Your Emails Personal
Make the recipient feel like you have written the email just for them. Remember that your emails aren't targeted at a company they are targeted at a human working for that company. Use data you have collected like first name, company name etc to give them that personal feel.
4. Keep Content Relevant
Consider what your lead has downloaded to date and make the content of your lead nurturing emails relevant to that. if you want to move them further along in the process consider their next step. Keep an eye on the interaction with these emails and the content and tweak as required. e.g. if a particular piece of content is getting no 'click throughs' you need to replace it.
5. Call to Action
Don't waste the opportunity - include a relevant call to action. Your CTA should be linked to the goal of your lead nurturing campaign.
Useful Resources
Template - "Web Journey Worksheet for Mapping Out Your Workflows" which is included in the PDF download of this guide.
Software - HubSpot Workflows
11. Campaign Reporting

Learn how to report on and show off your success with your inbound marketing campaigns
Basic Metrics
During the planning phase of your campaign, you will have defined clear goals and marketing metrics on which the campaign performance will be measured. Some of these metrics may include
Visits - the number of times visitors reach the landing page

Conversion Rate of Visitors-to-Leads (or Contacts)

Leads (or contacts) - The number of new leads generated for the reporting timeframe

Conversion Rate of Leads-to-Customers

Customers - The number of customers whose first conversion occurred as a result of this campaign
Some more campaign analytics marketing should be using to measure campaign performance are ….
Landing pages
Number of Visitors
Number of Leads Generated
Blog posts
of Visitors
Average Session Duration
of Social Interactions
Number of backlinks
Calls to Action
Number of Views
Click Through Rate
Social Posts
Number of Likes
Number of Shares
Number of Retweets
Emails
Open Rates
Click Through / Conversion rates
No of replies
If you are a HubSpot user, then the campaign tool and new analytics reporting will help you easily track the progress of your campaign so that you can continuously improve.
If you're not using HubSpot, then at a minimum, you need to create a spreadsheet to track and monitor the results.
Advanced Metrics
Some more advanced metrics you may want to report on are
Customer Acquisition Cost (CAC)
The Customer Acquisition Cost (CAC) is a metric used to determine the total average cost your company spends to acquire a new customer.
Marketing Percentage of Customer Acquisition Cost
The Marketing % of Customer Acquisition Cost is the marketing portion of your total CAC, calculat- ed as a percentage of the overall CAC.
Ratio of Customer Lifetime Value to CAC
The Ratio of Customer Lifetime Value to CAC is a way for companies to estimate the total value that your company derives from each customer com- pared with what you spend to acquire that new customer.
Time to Payback CAC
The Time to Payback CAC shows you the number of months it takes for your company to earn back the CAC it spent acquiring new customers.
Marketing-Originated Customer Percentage
The Marketing Originated Customer % is a ratio that shows what new business is driven by marketing, by determining which portion of your total customer acquisitions directly originated from marketing efforts.
Marketing Influenced Customer Percentage
The Marketing Influenced Customer % takes into account all of the new customers that marketing interacted with while they were leads, anytime during the sales process.
If you would like more detailed information on these advanced metrics, why they matter and how to calculate them then download our free guide 'Marketing Metrics for CMO's and Marketing Managers'.
Channel Metrics (Sources of Traffic)
Channel metris are really important. By regulary monitoring these you can figure out whch channels you should be focusing on. Break them down as follows:
Organic Search

Direct Traffic

Referrals
Social Media
Email Marketing
Paid Search
Paid Social
Other Campaigns
Offline Sources
You can also roll up some of these metrics. Example:
Paid - this would include Paid Social and Paid Search
Organic - This would include Blogging, Social Media, Email Marketing and SEO
Another way to look at performance is to look at metrics like
Influenced Contacts
Measures the number of contacts (new and existing) that have engaged with assets related to the campaigns
New Contacts First Touch
Measures the number of newly created contacts, attributed to the campaign that brought them to your site for the first time
New Contacts Last Touch
Your newly created contacts, attributed to the campaign that most directly contributed to their conversion.
Influenced Revenue
Measures the amount of closed revenue for deals that are related to contacts that have been influenced by the campaign
Closed Deals
These metrics will be particularly useful for reporting to the Senior Management Team (or C-Suite). If you are a HubSpot customer then you're in luck as all these business metrics are available in the Campaign Analytics Reporting Module for all your campaigns
12. Campaign Optimisation

Learn how to go about optimising various components of your inbound marketing campaign to maximise conversions
Even the best of marketers are unlikely to get their campaigns perfect first time, which is why optimisation is so important in Inbound Marketing. Even small conversion improvements can have a big impact. You've put a lot of work into your campaigns so it's worth adding a little extra effort while they are running to see if you can ramp it up a little and make a difference to the bottom line.
Landing Page Optimisation
Start by going back over the landing page best practices and check things like:
Does the headline grab visitors attention?
Does the copy pass the blink test – i.e. in 3 to 6 seconds is it clear what the offer is and why it is valuable?
Is the copy itself compelling?
Is the image relevant and high quality?
Have you optimised the form – are you asking for too much information?
Does the button stand out and is it clear the action you want visitors to take?
Once you have identified some potential weak areas consider implementing some A/B testing (also referred to as split testing). This testing involves setting up a variation of your main landing page with one or two changes for optimisation. The marketing software you use will serve up (or show) one of the 2 pages randomly when a visitor goes to your landing page. You can then track conversions on both.
You may find that the variation has a higher conversion rate than the original (or vice versa) and you may end the test, discard the original landing page and make the new version your Landing Page.
You can then look to further optimise in the same way. I would recommend only 1 to 2 changes at a time so you know what has impacted conversion rates. Generally one change at a time is best.
Conversion Path Optimisation
| | |
| --- | --- |
| | The conversion path is the step-by-step series of clicks that a visitor goes through on your website, from their first interaction with you to whatever goal you're trying to accomplish on your site. Called a conversion -- hence the term conversion path -- this goal is usually something like a form completion or a transaction. |
So take this simple example of a possible conversion path for a campaign…
LinkedIn post

→

Blog Page

→

Campaign Landing Page

→

Campaign Thank You Page
So what you want to do is map out your conversion path if you haven't already. You should have many conversion paths for the campaign. If you have a website page that gets a lot of traffic, like your Homepage, make sure you include a CTA on this if its relevant.
Here are a few more examples of possible conversion paths for your campaign:
From a LinkedIn Post
LinkedIn post → Campaign Landing Page → Campaign Thank You Page → Next Relevant Campaign Landing Page
From a CTA on your Homepage
Homepage → Campaign Landing Page → Campaign Thank You Page
From a CTA on an Email
Email → Campaign Landing Page → Campaign Thank You Page
Or
Email → Blog Page → Campaign Landing Page → Campaign Thank You Page
Maximise these to provide as many opportunities as you can for someone to get to your landing page.
Review your analytics to see what content is attracting the most qualified leads and driving the most conversions.
Try variations of your CTA's – text, colours, images, placement etc.
Always be looking for opportunities to improve your conversion paths.
Social Channel Optimisation
See which channels are bringing the most conversions and focus your efforts on these.
For example, you may be posting on Facebook, LinkedIn and Twitter but if LinkedIn is bringing in the most conversions you may want to divert some of your effort to LinkedIn and ease off other channels.